updated 4 July 2017
Training Log for 2017, January – June
Times
Home–Owens 19 minutes, Mon13Feb2017
Owens–KCH 13 minutes, Mon13Feb2017
KCH–bus station 17 minutes, Mon13Feb2017
KCH–Goodwill 68 minutes, Mon13Feb2017
Panda Express–Aldi 74 minutes, Mon13Feb2017
Home–Dr. Hollar 32 minutes, Wed15Feb2017
Segal Street–Home 16 minutes, Wed15Feb2017

Home–Back Door to Crazy Egg 102 minutes, 10.6 miles, Sat18Feb2017
Crazy Egg–FUMC 19 minutes, 2.3 miles, Sat18Feb2017
Crazy Egg–home, 174 minutes, 7.2 miles, Sat18Feb2017
Sat18Feb2017
Sat18Feb2017
Back Door to Crazy Egg–Home 96 minutes, 11.0 miles, Thu9Mar2017, seven minutes to change shoes, five minute rest stop. 6.8 mph average
Rides
4 January 2017
As usual, I'm starting over from scratch after being shut in for most of December.
Today I walked a mile and climbed both staircases, one of them twice, and came back by way of Ninth Street.
I might venture forth on Friday.
13 January 2017
I walked around Sprawlmart a little on January 6th.
On Sunday, I walked to the church, on Monday, I walked to the bank, and today (Friday) I rode to Owen's by way of Ace Hardware. The kitchen stuff has shrunk to half of one side of an aisle, so I didn't find any pie shields, but I blew twenty dollars on a West Bend electric timer. I checked first that it takes a standard triple-A dry cell.
The bike is ready for a dump tour tomorrow. I'm not sure about me.
14 January 2017
Stood up to it fine; I could have gone farther. I did the whole thing in sandals — with ragg socks, newspaper sleeves, and black knee hose to hold the newspaper sleeves in place. No complaints from the feet.
I stood too often — pity my bad leg is the one I have to stand on when I stop the bike without getting off. I was about out of standing time by the time I got to Goodwill, so I coasted past their driveway and made a U turn when the traffic cleared. Also got into a long line when checking out; I alternately fidgeted and squatted, and seriously considered snitching one of the wheelchairs beside the door. I don't think I've seen anyone using those chairs except to sit in and wait; both were occupied when I finally left, which led me to reflect that it's good that the handles are next to the wall; otherwise, I'd worry that someone would grab them and run off with me, were I sitting there.
Took half an hour to eat my "kid's meal" at Panda Express, alternately sitting and trotting around the room. I forgot to ask for brown rice, and just pointed at the rice I could see. The bill said "white fried rice" which leads me to wonder whether they also "fry" (mix vegetables into) brown rice. My kung pau chicken was good, but not as good as the kung pau chicken we had at the Great Wall in the evening. I ate way too much, didn't want to eat at ten, and now I'm hungry but it's after eleven.
I went out by Harrison Street and the Beyer Farm Trail, but on the way home stayed on Park Avenue and generally trended south until I got to Smith Street. Forgot to look for the concrete house at the intersection with Winona; that's an awkward intersection and I don't sight-see much. I stopped at the Trail house, but didn't see anything new. I wasn't impressed with the selection of lights.
I bought three things at the Bargain Barn: a can of cat food, a pair of 3.5 reading glasses, and something that cost $1.89; I've been wondering what ever since I punched my receipts into Quicken. [turned out to be the sub-total]
The usual one-mile walk tomorrow, with some work in the kitchen.
16 January 2017
It wasn't just cold weather that caused all that snorting and spitting on Saturday; I came home from church with a high fever — or developed one during my after-lunch nap. I'd cooled off some by the time Dave measured my temperature at 100.3 in the evening.
My back isn't as sore as when I got up, but it's just as well that I chickened out of washing clothes today. Gave serious thought to using my new walker, but decided it wasn't worth moving all the boxes piled up in front of the closet.
I think I'm blowing my nose less often.
On Saturday, I felt cool in the fronts of the thighs whenever I thought about it. Never uncomfortable, but I was getting distinctly warm sensations from my scarves and mittens. Quite neutral in the torso. That night my quads felt a tad sore; another layer of wool might have helped.
The trip was about ten miles and took a trifle more than four hours.
17 January 2017
I'm still leaving a trail of paper handkerchiefs, but I've been doing that since fall. Hey! And tomorrow is predicted to be fit to ride. Pity I have no place to go. It's a tad early for the Sprawlmart tour; I stocked up thoroughly on my latest visit.
Weather Underground says I'll be keeping my medical-insurance appointment by automobile.
Perhaps I can think of a place to go by Saturday. And I can take a walk tomorrow.
19 January 2017
I went a little out of my way on the way home, and climbed both staircases. Felt out of breath after doing twelve elbow-wiggles.
We are low on milk, so I can go at least as far as Owen's tomorrow.
23 January 2017
Since "tomorrow" was a wet day taken up with an annual welfare check, I've no idea what I meant by that.
On the nineteenth, I clicked in my prescriptions so that I could pick them up on my way home from the appointment. I did stop at Owen's on the way home, but bought milk and forgot the prescriptions.
Saturday was a pleasant day all day, but I didn't trust it — not to mention that I slept late — so I settled for picking up the prescriptions. And a few "WhooHoo!" items such as ripe bananas.
Pill Popper: 3.2 miles, didn't measure the time.
Google Maps says that I added six tenths to my usual one-mile Sunday walk this week.
We have a lot of stuff to dump at Goodwill, so I may do some more dump tours.
30 January 2017
Saturday was Winter Market Day, so I intended to do a Tour d' Warsaw, but the night before I didn't trust the weather — not to mention that I haven't any decent wool tights and have to improvise with layers of sweat pants — so I prepared my walking pants instead of the bike. I also emptied the Trafalgar bag so I could carry it in case I bought something.
Of course, it turned out to be a perfect day for cycling. But, perhaps, not a good day for going into heated rooms while dressed for cycling.
I parked at the library. Google Maps — or was it HereWeGo? — said it was half a mile to the Central Park Pavilion, where the Winter Market is held. I walked through the park instead of taking Google's route, but I came back by Buffalo Street, and after I checked out Clouds of Witnesses, I walked to the dollar store on Market Street, so I walked at least a mile.
Also, I circumnavigated the court house and climbed the stairs to all three entrances, and the few steps to the two basement entrances. On the west side of the basement, I went up only, having come in by the handicap ramp, which is level with the sidewalk. The lawn doesn't seem to slope all that much, but it's only three or four steps down to the basement doors. I tried all the doors except the handicap door; it's controlled by a button, and I was afraid it might work.
I had intended to sit for a while at the Winter Market, but the chairs had been removed, so I did one lap around the room and left. I briefly considered buying a focaccia, but the vendor wasn't around, and I didn't really want it if I couldn't eat some on the spot. (Eating while standing aggravates meralgia paraesthetica.)
There were no votive candles at the dollar store, so I bought a package of tea lights. They appear to be larger than the lights we burned up de-paintfuming the hall halfbath. I'll continue to look, because twelve-hour candles are more convenient for the Fourth Of July (which, I think, is on July first this year) cheese dip.
The following day, I walked to and from church by the most-direct paths, and not only climbed to both tower rooms and did some upper-body in each, but went down the top half of the Club 56 steps slowly, and walked up them in reverse a couple of times.
No steps of any sort today, and I didn't walk any farther than to the compost heap. Also planning to stay home tomorrow.
Days like this, I miss the basement food storage and upstairs bedroom of our former home. But stairs would have been quite impossible during the Easter Incident.
My hip has been hurting more-or-less continuously since then, particularly at night. I'm hoping to make it through next Easter without taking my new rolling walker out of the closet.
2 February 2017
Modified Dump Tour – ten or eleven miles, about five hours
This time I got down on the drops while climbing McKinley Street and tried to get some exercise. I was out of breath long before I got to the intersection. I guess climbing a flight of steps once a week isn't enough to keep up my muscle tone.
Big problem: wearing mittens means I have to stop the bike to blow my nose, mitten-wearing weather means that I blow my nose a lot, stopping the bike means supporting my weight on my bad leg.
But I don't think I aggravated the meralgia. There were only one or two times I had to wait for a light or for traffic to clear; I did remember to bend my ankle up and down.
Since I didn't have bags to dispose of, I went to the hospital by Lincoln Street and the Beyer Farm trail, topped off my bottle with hot water from the coffee machine, continued on the Beyer Farm trail to Park Avenue etc. to Goodwill, had a leisurely lunch at Panda Express. I ordered teriyaki chicken because it was right next to a dish that I thought looked good and I misread the labels. Tasty, but I could have used some vegetable. So I followed up by eating turkey spine for supper. I did eat a carrot stick some time or another
I walked from Meijer's parking lot to Anchorage. This evening's paper says that that part of that driveway is going to be two-way pretty soon. I followed Park Avenue to Fort Wayne, intending to go to Owen's, but soon after turning onto Fort Wayne, I realized that I wasn't very far from Lowery's — huh. The map says that I turned on Tamarack Street, but it also says Tamarack is one-way north. I rode up Market almost to Detroit, then walked from there to Lowery's.
I didn't like Winona, so I followed Smith Street to the first street that crossed the railroad, which was Scott. Bought some dairy products and produce at Owen's, then went straight home.
4 February 2017
All I can make out is that I went to Aldi, and was gone from 10:58 to 13:30.
10 February 2017
Aldi, 11:15 &ndash 14:15. Note that I meant to say in the Banner that the alley Freedom Express wanted vacated was, for all practical purposes, already vacated. <checks> I didn't
13 February 2017
Modified Dump Tour, ~15 miles, ~6 hours
I was minded to go through Bell Drive to Walmart and come back on the other side of Center Lake, but when I was turning onto US 30 after lunch at Panda Express, I reflected that I didn't want anything in Walmart Plaza, and didn't feel like climbing two long, steep hills, so I stayed on Anchorage until it jogged into 175 N, and came back south on 300 E. This brought me past the farm stand, but there was only a parking area where the shed had been. I hope that that means that it was taken in for the winter, rather than demolished.
This must be the first time that I've turned left off 30 onto Commerce all by myself; my leg was aching before I realized that the left-turn signal was never going to come on, and nobody was ever going to pull up behind me and trigger it, so I dismounted and stepped onto the median — which was barely big enough — and waited for a hole in the traffic in the other lane. This took less than a light cycle. Once across, I was in Aldi's lawn, so I made no effort to get back into the street.
After shopping, I didn't feel up to dealing with the rumble strip and riprap on 30, so I went home through Sprawlmart, trying to remember that I was tired and parking lots are dangerous. Made it without startling anybody. I did turn off Frontage one driveway too soon. Since it was a left turn to get back onto Frontage, I walked across a lawn. The ground must have been frozen underneath; the grass was squishy on the high places of the lawn. The ditch I crossed, oddly, was no problem.
I should start a chart of travel times, to encourage me to try to ride faster. I'm not sure how to go about that in plain text. I want to put it at the top of this file so that I can find it.
On the fourth, which was a Saturday, I rode to Aldi, then walked to Martha's open studio and came back by way of The Hillside. Over a mile, I think.
On Friday the tenth, I went to Aldi by way of Lakeview Plaza and Our Father's House, to see what was going on. No sign of moving in at Lakeview, but Our Father's House was closed until further notice. I wonder where the homeless are eating lunch?
And today I rode to Aldi again, by way of Goodwill. When Aldi moves to Menards Plaza, it's going to mess up my fitness routine.
I was a little nervous about going out with only two pairs of wool socks on my feet, so I put newspaper sleeves and a pair of black knee hose into my pannier. I not only didn't put them on, they were joined by my windbreaker and one of my wool scarves when I left Goodwill, and I took my gloves off at the Trailhouse.
Clean-Tooth Tour, 10 miles, 3 1/2 hours
Just below freezing, took mittens & oversocks, didn't use them. Spaulding tights under sweat pants were a tad thin, but I spent more time in the chair than on the road. Stopped at Marsh on the way home, met Steve on his lunch hour.
18 February 2017
Around Winona Lake to the Crazy Egg, 17.8 miles, 5 1/2 hours
Started out wishing I'd worn the thinner pair of gloves; as the temperature rose, I shed the gloves, then the windbreaker, then the red scarf, then the white one.
There was a train parked across the footpath from 100 N to the Crazy Egg parking lot. I walked around it, rather nervously because the engine was running, and found that pushing a bike over a ballast path was difficult. It took a quarter of an hour; I would have been better off to ride the extra 1.6 miles to get from 100 N to Old 30 by way of the Chinworth Bridge.
19 February 2017
I climbed one flight of stairs before the service, and two afterward. The weather was so nice that I decided to walk around the hotel, but I got hungry along the way, remembered the Great Wall's Breakfast Buffet, called Dave to see whether he had eaten, and he picked me up when I was about halfway back. I meant to have him drop me off to complete the walk, but by the time we came back, I'd forgotten about it.
I put a spoonful of green tea into a pint jar of water and stuck it into the fridge. It should be fairly strong by the time I schedule another all-day ride.
23 February 2017
I have a route! Next Saturday, I'll go to the library to drop of Clouds of Witnesses, then to the winter market — if the chairs are back, I'll buy something to eat. Then to Open Air Greenhouses to see whether the onion and potato sets are in, then to Subway for lunch, then along Hepler or Leiter to Center/Market to Marsh to redeem my coupon for a pound of free bananas, and home.
According to Google Maps, that is only 11.5 miles. I'll have to think of some zig-zags. Can't go around the south end of the lake — or I could go by way of Country Club Road after visiting Marsh. That would make it 14.1 miles. And I haven't looked at the dam lately.
I could make it 18.6 by lunching at the Crazy Egg, but I ate there last week. Perhaps go past there after eating at Subway?
24 February 2017
Weather underground had a word about my plans for tomorrow: "snow". But it was a lovely morning today, and it held just long enough for me to drop off my book at the library and redeem my coupons at Marsh. It started sprinkling rain as I came through the village on the way back.
I did the entire ride on the big ring, but used the big-big combination in spots. I was impressed at not wanting to shift down on McKinley.
Trip took a tad under two hours, with forty minutes of it inside Marsh and six minutes in the library. So, an hour and a quarter for (Google) six miles even. Probably a slight under-estimate, since Google simplified my route. 4.8 mph, but that includes a stiff headwind on parts of the way back — probably not unconnected with the sprinkle of rain — and a train delay. And all done in walking shoes.
Just noticed that I'd had Google Maps set on "car". Clicking the bike icon made it a better approximation of my route, but it is still six miles.
25 February 2017
The snow has already stopped, and the prediction shows a sharp drop in probability exactly when I'd be fed, suited up, and ready to go — but the fierce winds aren't going to drop below 18 mph before sunset, and I didn't really want to go in the first place. The Winter Market by itself isn't enough to make an expedition.
Pretty nice day predicted for Monday, followed by socked in until Saturday. I hope I can think of some place to go. Sprawlmart by way of Pierceton might work; I need a few things at Aldi. It's 6.8 miles to Pierceton, and I cam make it 9.3 by going by way of the graveyard. (Google really, really, wanted to take me to the graveyard by way of Pierceton!) The trip back can hardly be less than 6.8; I don't want to coerce Google into going by way of Van Ness to see exactly how far.
Twenty miles would be better, but sixteen isn't too bad for so early in the season. And coming through Sprawlmart can be tiring.
As for Saturday, Open Air should have onion sets by then, and I can come back the long way. If I don't get them at Big R the day after tomorrow.
26 February 2017
The usual one-mile Sunday walk. Despite having had time to eat breakfast, I was too hungry to take a longer way home. I did climb stairs three times.
Dave cleaned out his closet, so I've changed tomorrow's route to "by way of Goodwill" instead of "by way of Pierceton". I might bip into Meijer too.
27 February 2017
Glorious weather out there. I didn't have the least bit of trouble staying outside long enough to comb my hair, and it's supposed to get warmer all day, but I'm wearing wool tights over my poly tights (and under sweat pants) anyway.
I wish I could buy new wool tights, but nobody tells you what measurements they fit. Perhaps someone will sell a set of three with a box to send two back.
Ooo, er . . . now that I've got two pairs of tights on, one over and one under my long socks, my shins itch.
⁂
Whenever I had to walk up a hill, it was because I was out of breath. I'd like to think that it was lingering effects of the cold I had, but my lung capacity has never been any better than just barely normal.
Wind sprints are no fun whatsoever, but it looks as though I need to do something.
I bought the last pair of black sweat pants from a clearance shelf at Meijer, so I'm set for next winter. Both of my old sweat pants have worn thin, and the navy pair is threatening to develop holes. The new pair is primarily cotton, but at $6.40, I'm not too fussy. Seems as though when cotton is suitable, only poly is available, and when I want something I can get rained on in, the poly is always mixed with cotton.
But I never risk getting rained on when sweat pants are suitable.
I saw rather a lot of extremely uncomfortable-looking underwear while hunting for the sweat pants. I'd think the message is "I plan to get naked before a rash has had time to develop.", but Meijer isn't that sort of store.
I'm missing the missed nap, and feel too stupid to write a report tonight.
Saturday, 1 March 2017
11:15 – 15:45. I appear to have gone to Sprawlmart by way of Pierceton.
Thursday, 9 March 2017
Yawn. 20.0 miles, 3½ hours
Around Winona Lake yet again. Didn't bother to make Google route me by way of West Street; by Lake Street is pretty close to the same distance.
I went first to the emergency room, where I dropped off a QST and a Reason, then to the library, where I turned in from force of habit and took off my windbreaker before resuming my non-stop route to Open Air Garden Center. I followed West Street all the way to Lake Street, deeming a left turn out of a side street easier than a left turn out of a parking lot. I didn't even glance to my left as I passed the shopping center.
At Open Air I learned that potato and onion sets won't be available until mid-April; so much for planting them on St. Patrick's day.
Thence to the back door of Creighton's Crazy Egg, which I could have used had I been going there, since no train was in sight. I'd got back to Parks-Schram before remembering that the rest of the route called for cleated shoes. Fortunately, there was a guardrail well back from the pavement at the corner, with a top rail at a convenient height for keeping my balance while I changed. I noticed, as I rode past the the guardrail, that the places where the sections overlapped were less corroded than the rest, frequently so sharply defined that when I noticed the first overlap while I was changing shoes, I thought for a moment that it was a plate bolted to the rail.
I got to the railroad on 200 S just thirty seconds too late to cross in front of the train. This made me very annoyed at the extreme difficulty of getting my left foot into the cleat, which slowed me by more than thirty seconds every time I crossed a major road. I've got Shoe Goo and I've got an old innertube; it's way past time to non-skid my toes.
Perhaps it was the difficulty of starting up again that made climbing one of the hills so onerous. I'm pretty sure that that incident was after crossing the railroad, but not the first hill after the railroad. I got to the top winded, and looked at the next hill that was even bigger, so I sat down on a mulch of fallen arbor-vita leaves for five minutes by the clock. I was there six minutes, according to my notes, but it took a while to get down and get up again.
And then, much to my surprise, the next hill was easy. Having paid my oxygen debt, I was able to pick up a lot of speed on the downhill and milk it nearly to the top.
And I switched to breathing through my mouth so I was getting more air. I've half a mind to take a dose of pseudoephidrine before my next ride. But first I must find out how it interacts with caffeine.
The Web is extraordinarily unhelpful, but eventually I thought of reading the package. It says to wait four to six hours before taking more pseudoephedine, so one should probably wait that long before taking a different stimulant.
I think I'll stick to mouth breathing.
11 March 2017
Oddfellows and Aldi, 18.4 miles, 4½ hours.
Cold wasn't too bad until I rode through Sprawlmart; the wind in my face raised enough tears to be dangerous. Especially at that exit corner where one has to turn right and left at the same time.
I accidentally took the correct route: when I got to 600 E, where I'd meant to turn to go to 400 S, I didn't like the looks of it and decided to keep straight and go down on 700 E. But pretty soon I was at the graveyard: I'd wanted to be on 350 E all along.
At the Oddfellow Café, I didn't realize that I was supposed to put the teabag into the the teapot instead of pouring hot water onto the teabag in my cup, and spilled water on the table corrcting my mistake. I must have really needed that tea! After lunch (a bowl of chili that would have been excellent if they hadn't glopped a lot of sugar into it), I got serious about drinking up the cold boiled tea I'd brought with me, and finished it before leaving Aldi.
I simmered a bottle of water on left-over tea leaves and a spoonful of fresh tea several hours yesterday, then this morning I strained it back into the bottle and strained in orange juice to make up what had evaporated and soaked into the leaves. Strainer was half full of pulp, which I tapped onto a plate and ate.
It being so cold, I didn't stop anywhere except at destinations. Well, after entering Pierceton, I sat on the funeral-home steps to change my shoes and write in my notebook. Map says that the funeral home is on the other side of the street. I'm too sleepy to puzzle that out.
Friday, 13 March 2017
10:10 – 13:42, stops at KCH, Home Sweet Home, and Sherman & Lyn.
23 March 2017
#1 Stop Bait and Tackle, 25.3 miles, six hours
Wed 22 March 2017
The ride was a tenth or two more — I didn't bother to force Google to avoid Argonne Road on the return leg. Google shows me on 200 N all the way across; I stayed on 100 N to 650 E, because I liked the looks of 100 N better at each intersection.
My toes got very cold on the way to the tackle shop, and felt warmer instantly when I removed my shoes to go into the shop, so I put on the foot windbreakers (newspaper sleeves and knee hose) that I'd thoughtfully brought along, and just left my sandals on for the rest of the trip. Which was just as well, because I walked a lot of hills on the return leg. Perhaps I wouldn't have if I'd eaten pizza on the bar's deck, as I'd intended, instead of gnawing food bars hither and yon. Stepped in, didn't know what to do next, left. I should have sat at the bar and asked for a menu, as I did at Teal's, but didn't quite have the guts.
Despite my lack of steam on the hills I wasn't very tired when I got back, and not the least bit sore, so I think I can make Spring Creek my next destination. Hope the day is warm enough to wear my cleats. I do have fleece-lined cleats, but the cleats on those don't have much grip; I think I'd rather wear my sandals. Which probably won't make it through the summer; I'd better start stopping at every shoe shop, because all my other sandals are either too thin in the sole or too wide in the toe.
I got back just in time to fry hamburgers for supper. I lay down for an hour after supper; I didn't sleep, but got up less groggy from nap-skipping, and felt reasonably alert this morning.
The tea — one teaspoon of green tea slow-simmered in a bottle of water, then left on the pilot light all night — seems to have worked. I put in a little honey before topping off the bottle with strained orange juice, and set it in the humdifier to keep it warm until it dissolved. Well, I was thinking of starting off with warm tea, which was silly because it was at ambient by the time it was time to drink it.
I didn't carry enough water. I saw a van parked at Dutchtown Brethren Church, and considered stopping to try the door, but didn't. I hadn't been long without when I got to Aldi.
Somewhere along 300 N I topped a hill in need of a sit-down, and lo and behold, there was a picnic table in a little park. Appeared to be an unwanted table stored on the lot where a house used to be, but made a lovely stop. The hill sloped sharply down on all sides of the lot, making for a lovely view of well-kept fields topped with a deep-blue sky with a hawk or buzzard soaring in it. I sat down to eat a food bar, and my notes say I was there twelve minutes. I wish I could say "thank you" to the owner of the table.
I forget where it was: I was startled, and braked with only one hand. It's going to take a lot of mindful practice to break that habit — I wonder how I acquired it? I vividly remember when the habit of keeping both hands on the levers saved me from getting run over when one of my brake cables broke on the way from New Salem to Warsaw in 1980.
It was cute that when we looked around after the incident, we were right in front of a bike shop. It would have been cuter if it had been the kind that makes repairs, but he directed us to one only a few blocks away.
29 March 2017
Spring Creek Market & Greenhouses, 31.0 miles, 7+ hours
The peak gust today was 19 mph at 1:18. My notes say that I was reading Whitley County's The Post & Mail in the Larwill Marathon at that time. I was sure I rode up one of those hills on Old Trail into the teeth of it!
But the peak gust coming when I was almost to the turn-around point lends credence to my impression that the wind dropped off when I turned around and rode with it. I stopped once or twice for the express purpose of feeling how strong the wind was.
The Wednesday chart that is still on Weather Underground shows the wind rising after noon. But I know it didn't have those near-zero speeds in the morning! Ah, "history" — an excellent chart.
---
Left home: 10:03
Arr Pierceton: 11:07
Dep Pierceton: 11:53
Arr Larwill: 13.02
Dep Larwill: 13.22
Arr Spring Creek: 13:45
Dep Spring Creek: 14:34
Arr Larwill: 14.51
Dep Larwill: 15.13
Enter Pierceton: 15:47
Reach Wayne Street in Pierceton: 15:55
Reach Van Ness: 16:02
Pass through Wooster: 16:14
Arr Aunt Millie's Outlet: 16.33
Dep Aunt Millie's Outlet: 16.52
Arr Aldi: 17:04
Dep Aldi: 17:42
Arr Home: well before six-thirty.
---
From home to Pierceton: 10 mph and slightly above
From Pierceton to Larwill: a little above 10 mph until last quarter hour, when it rose in a nearly-straight line to just under twenty. I think I noticed that.
From Larwill to Spring Creek: almost twenty miles per hour.
From Spring Creek to Larwill: 15 mph
From Larwill to Pierceton: dropped from around 17 mph to slightly under 15 mph
Pierceton to Aunt Millie: 15 mph
Aunt Millie to Aldi: 15 mph
Aldi to home: dropping to 10 mph.
---
So my impression that there was less wind when it was with me is mostly delusion.
But the trip back was a lot easier than the trip out. I didn't have to stop to catch up on my breathing even once on the way back.
As I left Larwill, I was thinking "Ah, there is more downhill and less uphil in this direction!", and then I remembered that I wasn't riding into a ferocious wind.
---
Between Larwill and Spring Creek, the non-lethal rumble strips are still in place, and I rode on them a few times to verify that they still work.
The breakdown lane was shockingly clean on the way out — nothing but bits of gravel, and hardly any of that. But after I stopped on the way back to write "has this shoulder been swept?" in my notebook, I met a patch of gravel, and not too much farther on there was evidence that one of a pair of dual tires had thrashed to smithereens. The tire shreds looked recent to me, but tire shreds don't change much when exposed to weather.
Between Pierceton and Larwill, outbound, I stopped at the top of a hill from 12:59 until 12:47 to get my breath back. Picked up a little litter while I was there, and left it in the wastebasket at the Marathon station in Larwill.
Mention the pannier failure.
31 March 2017
This morning, I asked Google how far I'd gone. The route isn't close enough to the exact way I went to bother with a screen shot. I did force it to refrain from routing me down Argonne Road, because that affects the distance. It worked really hard at keeping me off SR 13, which is much easier than Argonne. I let it go outbound, but put in two extra destinations on the return trip.
I could make a screenshot of the unmarked map and draw my route in with Gimp, if I thought it was important.
Route: I went out Pierceton Road, had a cup of split-pea soup and a pot of tea at the Odd Fellows Cafe, followed SR 13 to Ryerson Road, to Old Trail, to Larwill. I'd meant to buy pizza in Larwill, but hadn't worked off lunch, so I bought a bottle of Pure Leaf black tea.
Going to the gas station probably added a few feet to the route Google mapped. I went out by an unGoogled driveway that connects indirectly to the route Google marked in, so forcing it to pass through the gas station would have added too many feet. When I zoomed in to verify the above remark, I saw that Google had correctly showed me staying on US 30 until I got to the stop light. If I recall correctly, I made a proper left turn there. On 30, the traffic is often so heavy that I'll turn right and then cross — which isn't all that easy because I have to sprint across six lanes and a median when the light changes. I think that this is the first time I didn't get off 30 at the same place where I got on.
And I could have forced Google to show me taking a short stretch of 30 instead of going through the gas station. I think that showing Thompson Street connecting to 30 is new.
At Spring Creek, after packing my purchases on ice, I pollished off the tea I'd brought from home, poured the Pure Leaf into the bottle, and filled the Pure Leaf bottle at Spring Creek's janitor sink.
I bought a slice of pizza on my second pass through Larwill and ate half of it, accompanied by a great deal of the Pure Leaf, because it had turned into jerky on a cracker under the lights. (Prolonged discussion in the Banner.)
Retraced my route to Pierceton, where I overshot Wayne Street and had to go back on Tulip Street and Second Street. I didn't tell Google. To Wooster by way of Van Ness, Wooster Road, 250 E, a stop at Aunt Millie's, Aldi — where I packed a fresh chicken on the ice and ate the other half of the pizza quarter. Home by Commerce Drive, Frontage, Jefferson, McKinley.
I forget which sprawl had pavement so potholed that it had me saying "this isn't a street, it's a slalom course!" It's fortunate that I was still full of tea at the time; it didn't wear off until about seven.
Now I get to draw a green line through "TAPE" on my notes. A cable guide snags my tights, so I cover it with a white electrical tape that has feeble glue and won't mess up my paint. But it tends to come unwound and the flapping end has to be tucked back every little bit. Usual cure is to cut the flapping part off and put on another layer, which is needed anyhow because by then the snagger is poking through the tape. But this time, after wrapping the cable guide, I cut a little piece of duct tape to secure the end. I think this will do it: duct tape is noted for securing all too well, and it isn't touching anything but the disposable tape. And when the snagger pokes through again, I can tape right over it and put on another piece of duct tape.
At Aunt Millie's, I noticed my right-side (not insulated) pannier hanging slaunchwise, and couldn't find one of the hangers — turned out after I got home that the wire had bounced out of it, rather than the bolt coming undone. It's rust colored and I had a lot of plastic bags obscuring the view, not to mention that standing in a patch of weeds isn't the best circumstance for running diagnostics. And it wouldn't have helped if I had noticed it, because the curl that is supposed to keep the wire in is now emphatically keeping the wire out.
So I secured the pannier with a bungee and refrained from buying anything heavy at Aldi. Well, the chicken was four and a half pounds, but that went into the other pannier, under the cheese and snacks I bought at Spring Creek. I cooked it yesterday, and it was delicious. Still is; we ate only one leg, one wing, and a piece of breast.
[Eventually, a pair of pliers persuaded the wire to go back into the hanger.]
8 April 2017
I made the last scraps of chicken into cream soup for my supper tonight.
Dump Tour Around Two Lakes, 27.8 miles, 8 ½ hours
This started as a dump tour coming back by way of Walton Boulevard, with a side loop to Parks-Schram to make it twenty-three miles. I was still feeling pretty good when I got to the Chinworth Trail, so I came back south of Winona for a few extra miles.
Google Maps says that it was 18.3 miles to the intersection of Parks-Schram and Crystal Lake, at which point I was out of waypoints.
From there to Boy's City Drive is 9.5 miles, for a total of 27.8 miles.
Somewhere along the Heritage Trail I became aware that the ball of my right foot was sore from the pressure of the pedal. When asked, my left foot said "Well, now that you mention it, me to, sorta." Both feet seem reasonably happy now (9:32) I've got a backache that I really ought to pay more attention to, and my knees are tired.
I hope I remember what-all I have to say tomorrow. I took better notes than usual, on the back of my map of the intended route, but they are still rather cryptic.
I'm planning to use Gimp to draw my exact route on a screenshot, just to see whether I can.
9 April 2017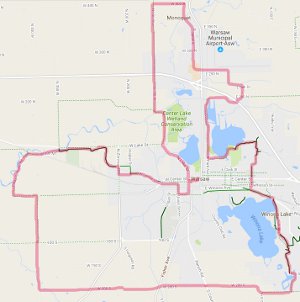 Possible, but difficult. Shrinking the map enough to show the whole route wipes out the small roads that I use. And my shaking hand is the only way to keep the lines straight. Gimp must have a way to deal with that, but I haven't found it. I used the brush tool; perhaps I should have used the pencil. I think that there is also a pen tool.
14 April 2017
One mile walk, with a vertical loop through the building and twelve elbow twitches in each of Club 56 and the prayer room — which is out of service; the table and kneelers have been moved to the War Room in the art gallery. They drew the line at carrying the heavy old pews down the stairs, and put a chair and a newer pew that was already on the main floor into the War Room
I looked at Here We Go, and their minor roads are thin gray lines instead of an absence of pale grey background. But I won't try it until I've been somewhere.
19 April 2017
Walked to the bank and back, with a vertical loop through the church. I could feel a little pain in my quads coming down Chestnut Street, so I was doing myself some good.
I reflected that when we first moved here, my meralgia would act up when I was walking to the Entrance and back, and I'd have to sit down every chance I got. I can walk as far as I please now. Perhaps exercise helps it?
Yesterday, I walked to the teller machine and back, with a vertical loop through the church.
My monitor stand is littered with notes that haven't been transcribed yet.
I tried looking at HERE We Go with Dave's widest monitor. Discovered that a screenshot can be saved directly to XP -- but I'm not likely to want to, because what XP's Pale Moon displays as a tiny label covers a quarter of the screen on Optiplex 6.
Duh! I just called up HERE We Go on XP, clicked "no style", and got pure, unadulterated map.
Snicker: I tried the same trick on Google Maps -- and got a bunch of squares that can be fitted together to form the map I was looking at.
20 April 2017
Whoosh! That clutter of untranscribed notes goes back to 4 February. I hope some of them are notes that I forgot to green-stroke and toss after transcribing. I'll put them in their proper places, probably with a lot of "I forget"s.
Hooray! 13 Feb was written up. None of the stuff is in the note.
I say there that I went through Sprawlmart to avoid the rumble strip/riprap on 30. On my latest visit to Aldi, I experienced an epiphany: I'm going to turn right, I'm entitled to the right-turn lane! After checking three times that the semi behind me meant to go straight, I swerved through the next gap in the rumble strip, and that turn was ever so much easier -- so much easier that I was in danger of riding too fast when I hit the railroad tracks, on account of not making a standing start at the corner.
18 Feb: I think I kept this one intending to add my times to the table I haven't gotten around to making at the top of this file. Green X, basket.
24 Feb, 27 Feb: ditto.
Thu 9 March 17: wow, I got all that out of *those* notes?
Wed 22 March 17: ditto. I'd dated it on the day I typed it up, so I interpolated the correct date.
Wed 15 April 2017 does not exist, and I can't make anything out of my abbreviations. There is a green line through it, and the "5" is rather untidy, but none of the entries with a two-digit date match up. ???
There are still untranscribed notes for 8 April on my desk, and a note for 17 April still in the notebook, but I'm quitting for the night.
Monday, 17 April 2017
Sprawlmart loop, 5.4 miles, 2 hours, 22 minutes
Primary purpose was buying cat food at Big R, but we also needed some stuff from Aldi. I stopped at some other stores on the way in.
My notes say that I also went to Owens and back after supper.
21 April 2017
I should be out bounding around in the cold wind, since my next chance will be Monday, but I've been dueless and dilatory today. I did pull a few weeds in the asparagus bed yesterday.
23 April 2017
I walked around the hotel on my way home from church, and did a vertical loop after the service. Did half a vertical loop before, and absent-mindedly counted to twenty instead of twelve.
Yesterday I went on the spring "hike" -- a short walk in the bike trails. Also walked the full length of Boy's City Drive and back. And rode to Owen's for milk, canned cat food, sunscreen, and peanuts after supper.
Friday, 28 April 2017
Walked to Mount Memorial (the old Free Methodist Publishing House), and did a vertical loop in the church on the way back.
I'm still planning to transcribe my 8 April notes
Wednesday, 3 May 2017
Dump Tour and Aldi, 13.3 miles, 5 ½ hours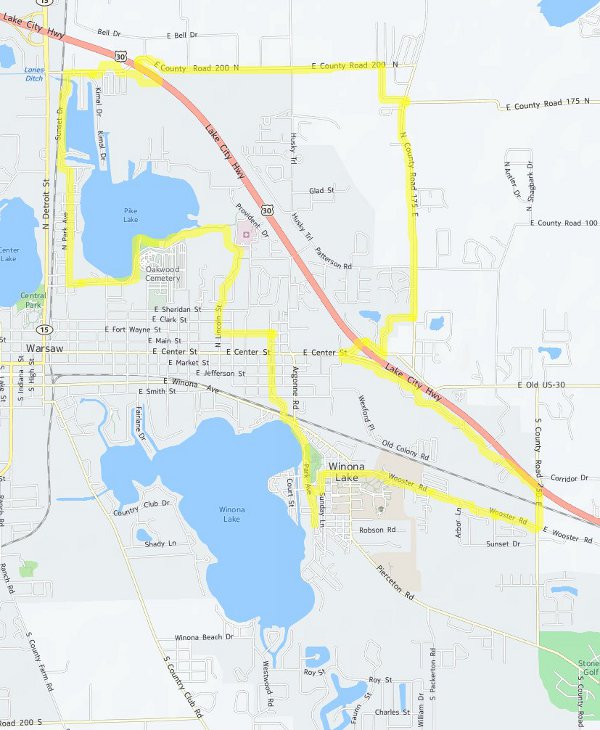 One clear day in a long rainy spell -- the next chance will be next Monday.
The traffic on Anchorage/200 N was heavy enough to make me exercise rather heavily for someone who had just pigged out at Panda Express. (On a Kids' Meal; portions are *huge* these days.) I looked forward eagerly to crossing Husky Trail, where the excess traffic would bleed off.
And when I got there, I saw a big sign saying "closed to through traffic". Hardly anybody turned!
Perhaps I should use Husky Trail to avoid the detour traffic. Pity I was too busy crossing safely to think of studying the density on the crossroad; it might be wise to prefer Husky Trail until the construction is done. I can *always* find a place to walk.
Well, there was that once, but I don't think that there is a mile of open water to plunk into my path at that particular spot.
From Panda Express to Marketplace of Warsaw (Sprawl One) took me . . . 13:05 to 13:52 . . . 47 minutes. 4.5 miles. 5.7 mph.
From Aldi to home: 15:15 to 16:03 -- that seems like a long time -- a minute longer than the longer trip from Panda to Sprawl One. Only 2.6 miles. 3.5 mph. I must have written something down wrong. At least it will be easy to beat my time the next time I ride home from Aldi.
Google Maps says that Aldi-home through Sprawlmart is 2.5 miles. Add in the jog to avoid Argonne Road, and the two routes are precisely equal. In length; there are a lot more intersections in Sprawlmart. Same number of stoplights: one each. But some of the intersections in Sprawlmart are close to stoplights. And the stoplight at 250 E is priority me, the light at Argonne is priority Argonne.
Re-measured with jog in. Precisely 2.7 miles.
---------------------------------------------
The dime has finally dropped re the annoying jumps in map magnification: they aren't vector drawings, duh! Different resolutions are different maps. I can make a map fit the screen by using the View menu Zoom.
I'm tempted to do that right now, and mark my route with Gimp.
This note was written on Thursday, 4 May 2017.
8 May 2017
Around one Lake: 18.8 miles, 6 hours & 38 minuies
I meant this to be a tour around Center and Pike, starting out like a dump tour (one bag and two magazines), then crossing Warsaw on Fort Wayne to go up the west shore of Center on Fox Farm. Alas, by the time I got to Park Avenue, I'd forgotten -- next time put a custom map in your pocket! -- and turned right instead of left. I did remember that I was headed for Walmart, and turned left so that I wouldn't be retracing my steps on 250 N and Bell Drive when I returned to Anchorage.
Traffic allowed me to make a proper left turn onto Jalynn, instead of turning onto 250 N and coming back.
I discovered that I could cross 15 onto 300 N from the end of Sheldon Street, thus bypassing the detour traffic on Anchorage/200 N. I took 175 E tp 175 N and 300 E to 100 N. No sign that the market stand will be back soon; I was out of breath and didn't think to check how the truck garden was coming along. And I can't remember what name was on the sign.
100 N to 225 E, which I followed to the back door of DePuy. The gates were standing open -- seemed to be quitting time, though 15:01 doesn't seem like a likely time for a shift change. And it wasn't a very big peloton that was coming out. I briefly considered going in, but vaguely recall trying that and getting questioned by a gate-keeping robot. I wonder a bit, since the front entrance on new 30 doesn't even have gates. I followed Old 30 to the K-Mart entrance to Sprawlmart, then home by Wooster.
Once again, I used the right-turn lane instead of that terrifying shoulder, and once again got on *much* better. The key is to get into the right-turn lane as soon as it's achieved its full width, but no sooner.
Ride didn't start well. Aside from forgetting that I meant to stop at the teller machine -- which came back to haunt me at Aldi, when I card didn't work, but I had my card on Dave's account with me, and it worked. So I don't think I *will* get around to storing that card in the little drawer. I'll just leave the sticker on it so I don't use it by mistake.
I hit the light at the entrance exactly right for the maximum wait. After a semi pulled up behind me, I realized that I was injuring my bad leg, so I checked the traffic carefully, then swerved over to the curb, stopped, and lost my balance trying to get off. Mem: don't get into situations where you have to get off while distracted; I should have dismounted, then gone to the curb. I was, of course, in the incoming lane much longer than intended, which was embarrassing, and I had a headache for several minutes from thwacking my helmet on the pavement. I don't think the hard helmet lining was significantly easier on my head than the pavement would have been, but it probably did save me from straining my neck.
Grump. I did remember to note the time when I got home, but I forgot to note the time when I left Aldi.
Home-Owen's, 1.6 miles, 19 minutes, 5 mph. Not *too* bad considering the delay.
Owen's-KCH, .7 miles, 10 minutes, 4.2 mph. ?? It was on a bike path, but . . .
KCH-Park Avenue, 1.7 miles, 13 minutes, 7.8 mph
Park & Arthur-Anchorage, 1.3 miles, 11 minutes, 7.0 mph
Sunset-Walmart, .9 miles, 11 minutes, 4.9 mph
Walmart-350 N, 1 mile, undetermined minutes
SR 15-150 E, 2.1 miles, 28 minutes, 4.5 mph
150 E, 175 E, 175 N, 300 E to 100 N: 4.2 miles, 16 minutes, 15.7 mph ??
Ran out of waypoints at 13.5 miles
300 E - Old 30, 1.7 miles, 15 minutes, 6.8 mph
225 E - Sprawl 2, .4 miles, 9 minutes, 2.7 mph
There to home 3.2 miles, 2 hours, 3 minutes. 1.6 mph
From Aldi to home took more than 16 minutes.
13.5 + 5.3 = 18.8 miles
My back aches a little, but it was already aching when I woke up this morning.
Wednesday, 10 May 2017
Yesterday, I noticed that my neck was stiff, which I attributed to the fall I took on Monday. It is still sore this morning, but I have to pay attention to notice.
But among the things I don't notice -- I'm an oblivious sort of person in general -- is pain. I blame the drug warriors who wouldn't allow me to medicate my dysmennorrhea.
Friday, 12 May 2017
Around Two Lakes, miles, 9 hours
It was also supposed to be around the airport, but I turned on 200 instead of 250, and had to go through Walmart Plaza. Not too many intersections if you go behind the buildings, but I missed some of the intended distance. And the change of scenery. Not to mention the trauma of riding the most-crowded stretch of 200 N. I did notice that the road was busier than expected, and muttered that the trouble with going around the congestion was that everybody else got the same idea.
And I woke up in the night to print the map, after realizing that I could go east of the airport instead of west.
I did drop off my book at the library. It was a dump tour: to Owen's, to the emergency room -- both the QSTs I'd left on my previous visit were gone, so I should have taken another -- to Goodwill, then to the library by way of Chinworth Bridge. I chickened out of the dirt section of 300 N even though it was pounded hard and I didn't see any washboard. Took my cleats off before crossing 30, using Polk to get away from Silveus Crossing; I *think* I could have taken the hill, but there is no place to breathe at the top. (There isn't honestly a place to walk, either. Perhaps I should have braved the dirt.)
Since I have to start climbing it from a dead stop, I don't think I'll *ever* try to climb it when headed south.
I put my shoes back on in the little triangle in front of The Farm. The proprietor happened to come home while I was sitting on her lawn and stopped to make sure I was all right. She thinks it will be July before they open.
Google Maps says Polk is on the left, a little before the drive where I turned off to the right. No label on the map, but there *was* a sign.
Notes say I stopped there to write about 300 N & decided I might as well change my shoes.
14 May 2017
Walked around the hotel, one and a half vertical loops. I'm not progressing on the pushups, but at my age, not losing ground is a gain.
I plan to punch in notes for the last few days this afternoon or evening. Also write a correction to my registration for the Tour des Lakes.
15 May 2017
Walked to the bank and back. Didn't go into the church; by the time I got my card straightened out, I'd forgotten I'd brought the key.
I did start an entry for last Friday yesterday afternoon.
⁂
Rode to Marsh & back in the evening. The return trip took twenty minutes. Google says 2.5 miles. That's 8.3 miles per hour.
16 May 2017
Spent the morning on sit-down sewing. I did push the cultivator around a little in the afternoon.
I'm thinking of going to Spring Creek tomorrow, if I don't come up with a better idea by bedtime.
17 May 2017
Spring Creek, 32.5 miles, 7½ hours
Home-Roy Street, 1 mile, 9 minutes, 6.7 mph
Roy-Packerton, 1.1 miles, 9 minutes, 7.3 mph
Packerton-Marathon, 10.9 miles, 1 1/4 hour, 8.7 mph
Marathon-Spring Creek, 2 miles, 14 minutes (?), 8.5 mph
Spring Creek-Marathon, 2.1 miles, 28 minutes, 4.5 mph
Marathon-Graveyard, 4.8 miles, 44 minutes, 6.5 mph
Graveyard-Pierceton, 1.6 miles, 11 minutes, 8.7 mph (riding with the wind!)
23.6 to Pierceton, and I'm out of waypoints
Pierceton-Wooster, 2.7 miles, 23 minutes, 7 mph
Wooster-Aunt Millie, 3.1 miles, 26 minutes, 7.1 mph
Aunt Millie-Aldi, .6 miles, 9 minutes, 4 mph
Aldi-Home, 2.5 miles, 17 minutes, 8.8 mph
8.9 miles Pierceton-home, plus 23.6 = 32.5
Average speed, four and a third mph.
22 May 2017
Dump Tour d'Warsaw, 5 1/3 hours
I'm not going to bother to try to remember enough of my route to calculate the miles. I dropped plastic bags at Owen's East, dropped magazines at KCH, returned my book at the library, checked out two more (hung out there more than an hour), pottered around town a while, passed Home Sweeet Home on my way to Marsh but they were closed, had a belated lunch of hot and sour soup at the Peking Restaurant (I'd eaten a banana and one of my candy bars at Owens West, sitting in a lawn rocker in their foyer. Not as comfortable as sitting in the other Owen's exit. Also bought a box of grape tomatoes, which are now half gone.)
Had a devil of a time getting across the railroad on Pope, then found that a flushing hydrant blocked further progress and sat on somebody's steps until the job was done, bought thread and a seam ripper at Lowery's, bought a packet of achiote at Carniceria San Jose, bought some candy bars and a parsley plant at Sherman & Lynne's, then came straight home. By Park Avenue; having missed my nap, I didn't feel up to navigating the Heritage Trail.
26 May 2017
Weather Underground says that the rain will let up in time for me to go to the farmers' markets tomorrow. I wonder whether the frozen-meat store on Hand is open on Saturday? I hope I remember to go to Center Lake Park to see what's going on at the Lakes Festival. I think I'll have lunch downtown -- preferably at someplace a bit higher class than the Peking.
31 May 2017
I bought a scotch egg at the courthouse market, ate half of it at a picnic table on the courthouse lawn, and ate the other half at a table at the festival. All kinds of fair food were available in the vendor area of the festival.
I also walked up the courthouse steps twice. I didn't check the meat market. I did look at Home Sweet Home. Checked out Marsh and was able to read one of the mysterious notes: it said "keep all carts". The previous sightings had the "all carts" part scribbled into a mysterious code.
Also looked up after spotting a petal on the pavement in an alley to see a tulip tree in full bloom.
Yesterday I walked to the church, wiped the gaskets and re-filled the ice trays, and did a vertical loop without pushups. Later I rode the flatfoot back to make sure I'd locked the door. (It was locked, but I suspect that the pastor did it.) Had to walk nearly all of the hill on Chestnut.
Stopped by the Trailhouse intending to take another look at the tricycle I'd found on my way back from the church in the afternoon, but it was after six.
1 June 2017
North Webster and Oswego, eight hours, 32.2 miles
Exploring downtown North Webster was worth the trip -- once. I see a way to avoid some of SR 13 if I do go again.
I took note of where the hilltop picnic table on CR 300 N is -- it's between 475 E and 525 E. Lovely little park. I'm inclined to believe that the table was put there to get rid of it, but the lot is mowed. I strongly suspect that a house used to be there; I should look for evidence the next time I go, or at least figure out where the garden would have been.
I think I'll calculate my milage tomorrow.
2 June 2017
I left at 11:04.
I forced the route to cross 30 at K-mart, but I'll just miss out the tenth or so for avoiding Argonne Road and Center Street.
Senior Center to K-Mart, 2.2 miles
I stopped at the table on 300 N from12:19 until 12:30, and at the BarBee hotel from 12:46 until 13:36.
The table shows on Satellite View! There was a huge truck parked there when the picture was taken. The marks in the grass are continuous with the marks in the field, so I suppose that they aren't lawn-mower tracks. I thought the edges of the high flat were too steep to allow that, not to mention what would you drag around on both plowed ground and grass?
I'll have to look for the wear marks from vehicles coming and going the next time I go that way. They aren't nearly as conspicuous when seen edge- on as they are from straight up
K-Mart to New Market, 11.7 miles, 13.19 total.
I floundered around North Webster a while before finding the market, so that's an underestimate too.
Total to Coy's Produce and More, 15.2 miles. I won't calculate the intermedite distance because I never found Coy's. Judging by the pumpkins on display in Street View, it wasn't there at the time. I think I did see some of the businesses near it.
New Market to Oswego Mini-Mart, 7 miles, 22.2 total. I left New Market at 14:50 and arrived at Mini-Mart at 16:50, but there were a lot of stops I don't care to deduct.
Oswego Mini-Mart to Sprawl 2, 7.9 miles, 30.1 total.
I left Mini-Mart at 17:36 and arrived at Sprawl 2 at 18.35. Call it an even hour: average only a tenth shy of eight mph! And I was taking it easy.
Sprawl 2 to home: 2.1 miles, 31.2 total.
Left Sprawl at 18:56, arrived home at 19.09, 4.6 mph.
12 June 2017
Saturday, I got home with fifteen minutes to cook supper in. All the perishables were on ice, so I sliced corned beef and put it into a skillet before unpacking.
Sunday, I walked as far as The Hillside before turning back, and got a couple of stairclimbs in after church.
On the way home I re-found the cheat sheet for the Fat and Skinny Dan Henries, painted on a parking space. This time I copied the codes on my bulletin; I thought it amusing that rides were red, green, and blue while "all rides" was white. Orange for the metric century messed up the joke, but metric always does.
It seems to me that the white danhenries I puzzled over were too far from Winona to include the twenty-mile ride, and certainly too far to include the twelve-mile ride. Perhaps I was on a shortcut for the sag. I wonder how they managed with both the twelve-mile ride and the twenty-mile ride being green? Pity I can't find maps of the routes anywhere -- they *must* have had them to hand out. Perhaps in a format only those with browserphones can read.
Today is predicted to be the only clear day this week. I doubted that one day was enough time to rest after an as-yet unmeasured ride, and knew quite well that it wasn't enough time to work up enthusiasm for going to Mentone or Nappanee, so I washed clothes.
15 June 2017
Tommorrow I'm going out again, if I can think of a place to go, so it must be time to count up the miles of Saturday's ride.
Saturday 10 June 2017
Home from the Farmers' Markets
22.8 miles, eight hours
Left at 9:33. home at 17:16 -- just soon enough to fry leftover corned beef for sandwiches.
Urg. It took me fifteen minutes to get to the fairgrounds market, and Google says that that is only 1.6 miles.
Omitting the farmers' markets and the wandering around in Warsaw, I'll say that I went straight to Owen's West: 2.8 miles
I got to Tippy Park in 28 minutes (arr. 11:23). To a spot on 350 W that's about as far from the bridge as to tippy park and back is 3.4 miles. Total: 6.2 miles
1.9 miles to 300 N; fifteen minutes -- eight mph!
Total 8.1 miles
Changed shoes at 12:22, a while after I hit the gravel, because I saw a hill a head. I think that 200 W was in the dip. The gravel was packed a little better on the other side. Arr. Kohl Plaza at 12:45, 44 minutes after the intersection of 300 W and 300 N. This was 3.2 miles. Four mph isn't bad, with the gravel and the shoe stop.
Total 11.3 miles
From Kohl Plaz to Aldi was three hours and fifty minutes, with pauses at a garage sale, to change shoes and re-arrange my bottles, and to sit a couple of minutes in front of the Holday Inn.
Ah! Just remembered why I changed shoes at 15:22 – 15:28: On Old Thirty, I pulled off under a tree near a turn-around patch in the driveway of one of the gravel companies to put reserve water into my bottle, and decided that I was near enough Aldi (and in enough off-roading) that I might as well change into walking shoes. While I was there I heard a loud bang and looked up to see a cloud of dust blowing across Old Thirty, and a pickup truck slowing as fast as it could. A tire on its trailer -- a flatbed with a pile of gravel on it -- was fwip-fwip-fwipping. Once stopped, he thought for a while, then pulled into the driveway and backed into the turn-around patch. Then he started crawling around pointing his phone at each of the two wheels on the trailer. I thought he was discussing the situation with someone; Dave suggested that he was documenting the damage for his insurance company. I couldn't think of any way I could be useful, so I left without speaking to him.
None of that was in my notes.
It took ten minutes to get from there to the hotel, and twenty minutes to get from the hotel to Aldi. I must have waited a long time for the light when I crossed 30! Perhaps I didn't note the time immediately upon arrival.
From Kohl Plaza to Aldi: 8.9 miles
Total 20.2
And that uses up my way points. (I miss the county maps and knotted string I used to use.)
From Aldi to Senior Citizen Center: 2.5 miles
That makes the total 22.7. but I marked 22.8 because Google skipped the jog that avoids Argonne Road.
Friday 16 June 2017
Around Three Lakes: Cat Food the Long Way

28 June 2017
Around Pike Lake: dump tour with extras.
Arden's Gardens is still sodded over, except for a patch just big enough to feed the family. I do miss that stop. Not even Sweet Corn Charley has corn yet, but they didn't sell corn, and would have been open by now.
I turned down a rutabaga at Sweet Corn Charlie's, having pretty well filled my panniers at Aldi. I did buy one tomato.
«»«»«»«»«» «»«»«»«»«» «»«»«»«»«»
2013 Rides
2014 Rides
2015 Rides
Part One of 2016 Rides
Part Two of 2016 Rides
Part Two of 2017 Rides
Back to the links page
Back to the cover page