updated 22 October 2014
Quarter Centuries starting in Winona Lake
2014
Leesburg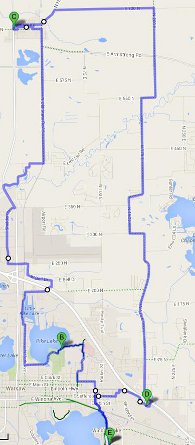 3 September 2014 — 24.9 miles
24.9 miles, plus zigs and zags Google Maps couldn't show. For example, Google can't allow the jump over the narrow strip of grass between the parking lot at KCH and the Beyer Farm trail, so I let it say I went up Lincoln instead of Harrison.
Start at Trailhouse, follow Park Avenue to the entrance, jog left on Winona to McKinley, follow McKinley to Fort Wayne, Fort Wayne to Harrison.
If traffic is heavy, jog on Market to Cleveland. If you don't particularly want to pass Owen's East, jog on Market to Harrison.
Harrison to the hospital, turn toward Emergency, wend through the parking lot to the Beyer Farm Trail. If you have no old magazines to drop off and don't need to top off your water or use the restroom, you can turn left on the Beyer Farm Trail where a spur comes out at the intersection of Dubois and Harrison. Be careful in turning because everyone who can see you knows that a left turn is impossible here. You can also get onto the Beyer Farm trail through the parking lot of the United Pentecostal Church. (And by way of Lincoln street, as Google says.)
Beyer Farm Trail to Arthur Street, Arthur to Park, Park jogs and becomes Sunset, Sunset ends on Anchorage.
Turn right on Anchorage, pass the Wong place and the Goodwill store, cross US 30, take the first possible left. This turn can be tricky if you don't notice it in time to get into the turning triangle painted on the pavement; Biomet Drive almost looks like a driveway.
Turn left from Biomet onto West Bell, Bell becomes Rainbow Drive, Rainbow ends on 250 N. Turn left onto 250 N, which becomes Jalynn Street after you cross 15. There are many places to eat here; turn left for Steak 'n Shake and McDonald's, right for the rest of them.
My plan was to follow Sheldon to 300 N and follow 300 N to 150 W, but when I started to plot that route, Google suggested following Sheldon to the end and jogging on 15 to Clearwater Drive. 15 wasn't bad at first, but as traffic dropped off, the shoulders disappeared. Clearwater Drive appeared just as 15 got intolerable.
On Clearwater Drive, have faith, turn north when you can and east when you can't, and you will come out on Levi Lee Road. Turn right on Levi Lee and proceed east to the railroad. Immediately after crossing the railroad, turn left onto Old 15. This road is sadly neglected, but there is so little traffic that you can go around the rough spots. Follow Old 15 to the Old Leesburg Mill, which is almost out of town on the other side. This is a cutesy tourist shop with a little bit of everything; there are lots of tables and benches on the porches, and a dining room. I didn't take note of what was in the deli, aside from potato salad and macaroni salad. There is also serve-yourself soft ice cream at $0.49/ounce. I didn't inquire as to whether there was a public restroom.
After touring Leesburg (Maple Leaf Farms' tourist shop is the majority of the sights to see), leave town on Harper Road, which begins near the Old Leesburg Mill, turn right onto 700 N, then left onto 200 E. Keep going south as the road jogs and changes name. After becoming 175 E, it ends on Old 30. Turn left, proceed to where Old 30 has a T intersection with itself, and cross US 30 into K-mart Plaza. There are a number of fast-food joints here; I particularly like Big Apple Bagels — if I bring one home, I don't have to cook that night. (One huge bagel feeds two old people amply.)
Wend through Sprawlmart to Jefferson Street. Follow Jefferson to McKinley, McKinley back to Winona, turn right at the entrance and return to the Trailhouse.
Walmart
12 September 2014 — 14.2 miles
Google Maps says this ride was only 14.2 miles, but I spent over an hour on the Walk and Wander tour and I didn't even try to tell Google about those zig-zags, so I'm going to count it as a quarter century. Time spent walking should count as much as the same time spent cycling, since walking is more strenuous, and I can still ride eight miles in less than an hour.
Except for a pause at Owen's East to dispose of unwanted plastic bags and a longer pause at KCH for X-rays, the route is the same as the Leesburg tour as far as Walmart. (Walmart's Subway's "Flatizza" proved to be exactly the right amount of food for a hungry bikie who wanted to get right back on the bike.)
When I was through at Walmart and Lowe's, I changed into country shoes. It was awkward to get out of the parking lots when I didn't want to put my foot down; there ought to be a bench at the intersection of 300 N and Sheldon Street.
300 N to 150 W, which Google Maps says is Silveus Crossing at that point. (Who was Silveus, and what did he cross? Both Wikipedia and DuckDuckGo are silent on the topic.)
I barely made it up the hill after 150 W crossed SR 30, and was very glad that I was wearing cleats. This is not a safe road to walk on.
150 to Fox Farm, Fox Farm to the roundabout, where I turned right to get to Penguin Point. The Flatizza was still holding, so I bought two pieces of chicken to go and packed them against the bottle of ice I'd brought for just this purpose; I suspected that I wouldn't feel like cooking supper when I got home.
I went back through the roundabout, but I see now that I could have gone around it on Warren and William Streets to add a little variety to the well-worn path. Lake Street to West Street, West to Fort Wayne, find courthouse, walk and ride alternately until I ended up in Center Lake Park, where I re-filled a water bottle at the Pavilion. At this point, the Flatizza wore off, so I ate an Aldi "protein" bar I'd brought for just such a situation. Then I ticked off the last two statues, limped around in the flower garden for a while, and wended through parking lots back to Fort Wayne so I could cross Detroit and go home.
The "Walk and Wander" worked as intended: I bought a book at one of the stores I passed.
Spring Creek
18 September 2014 — 31.3 miles
Winona Lake to Larwill, two hours.
Follow Pierceton Road to 600 E.
500 E, 400 E, and 350 E look plausible on the map, but are hillier.
Follow 600 E to 350 S, which it meets at the St. Francis cemetery. Turn left. 350 S jogs around Hillcrest cemetery, crosses SR 13, and becomes Ryerson Road. Ryerson Road ends on 950 W — must have been a county line back there somewhere. Turn right, then almost at once turn left onto Old Trail. Old Trail becomes Larwill's Main Street. Take Center Street to the gas station and fuel up. (I ate one slice from a two-slice box of pizza.) (If you brought your own lunch, there is a very nice gazebo at Center and North.)
Larwill to Spring Creek, four minutes
Go out the back door of the filling station and follow Thompson Street, Hammondtree Street, and McClelland Street to US 30. Turn right, and take careful note of 650 W as you pass it.
US 30 was quite new and shiny black. The shoulder was an inch or so lower than the main part of the road, leaving a curblet that made me a bit nervous even though I could ride many feet from it — I've experienced two diversion falls, and though neither was occasioned by a ridge parallel to my path, that's partly because ridges parallel to my path make me nervous. The edge looked soft, and one may hope that heavy vehicles will find occasion to pull off onto the shoulder often enough to flatten it.
The pavement was so black that I thought at first there were no rumble strips. They are continuous, but are the wide-landing, narrow groove type; on the way back I tested one and it wasn't dangerous or even distracting. The shoulder was a full lane wide, but sprinkled with gravel. This appeared to be construction debris, rather than general trash, and was nowhere near as thick as it is closer to Warsaw. On the return leg, I saw one piece of broken glass and two fragments of steel-belted tire.
Spring Creek has little eat-on-the-spot food, but one could dine on nuts and dried fruit. I ate my other slice of pizza and then got back on the bike without remembering that I wanted to explore the greenhouses.
Be sure to buy some Ohio Swiss cheese; it's very good and available nowhere else.
Spring Creek to Pierceton Washington Township Park, 55 minutes
Cross 30 at 650 W, turn right onto 100 N, go around three sides of a square to get back onto Main St./SR 5/Old Trail. Satellite view suggests that it would be easy to walk from the corner on 100 N to the corner on Main Street, but I suspect that it would be rude, if not trespassing, to do so. Besides, you can't see the connection from ground level.
Retrace your path to Hillcrest Cemetery, then turn right onto 700 E halfway through the jog around the cemetery. The park is just before you get to Pierceton, and has restrooms and a drinking fountain. I reflected that there were no more serious hills on the route, and changed into city shoes.
Township Park to Wooster, 33 minutes
I wended through Pierceton to Wayne Street, Wayne Street turned right and became Arnold, Arnold crosses 30 and becomes Van Ness, Van Ness ends in Wooster.
I glanced to the left while crossing 30. The shoulder was wide and looked reasonably clean, but Van Ness is quieter and hardly any longer. It also has a little hill that 30 shaved off and I'd shed my cleats, but I still wasn't particularly tired, so I didn't mind climbing it in city shoes.
Wooster to Aunt Millie, 21 minutes
Take Wooster Road out of Wooster, turn right on 250 E, turn right into last driveway before the filling station, park beside the steps that lead up to the gas station and Aunt Millie. Buy bread. (There is also a restaurant-supply store in this parking lot.)
Aunt Millie to Big R, 7 minutes
Exit parking lot, turn right onto 250 E, left onto US 30, left again onto Commerce Drive. (If traffic is heavy, turn right into DePuy, U-turn in driveway or parking lot, cross 30.)
Big R to Aldi, 4 minutes
Turn right onto Commerce, keep straight when Commerce turns.
Aldi to Dollar General, 6 minutes
Follow Commerce past the Tire Barn to where Goodwill used to be, turn left into the back door of Sprawl Two.
Dollar General to Big Apple Bagels, 3 minutes
Walk north on sidewalk past Graycraft Signs. Buy supper to go.
Big Apple Bagels to home, 19 minutes
Follow Commerce/Frontage to Sprawl One, go through parking lots to Eastlake, Eastlake to Jefferson, Jefferson to McKinley, McKinley to Winona Avenue, short jog on Winona to Park Avenue. (If traffic on Winona is backed up at the light, go through condominium parking to the recreationway, get onto Park at the end of the Boathouse parking lot.)
Put away groceries, 18 minutes
Sidney
24 September 2014 — 25.7miles
Navigate with a map-snippet left over from a previous trip, on which the blue line marking the route obscures the names of the roads.
Cut over to Roy Street by way of the Heritage Trail recreationway. Cross from Roy Street to Packerton Road by way of Southtown Estates Drive. Think that you are following the blue line, which is actually on 275 E. Get all confoozled when you turn onto — or, rather, continue east on — 400 S when Packerton Road turns south, and the south turn fails to immediately appear. When you realize that the blue line isn't on Packerton Road, leap frothing to the conclusion that you missed the turn from Packerton onto 225 S. (When compared to a better map, the map snippet shows the route staying on William Street until it ends on 225 S, so that the marked route avoids Packerton entirely.)
Turning off Packerton onto 250 S is also, the map says, a plausible way to get to 275 E.
Home to Packerton Road & 400 S, half an hour
From there to Sidney, one hour
Turn right off 400 S onto 300 E. 300 E jogs east on 450 S and continues straight south to 600 E.
Stop and consult map. Either turning left or continuing straight will get one to Sidney. The two routes are exactly the same length, but continuing straight has an extra turn — but come to think of it, also eliminates one turn, so even if one objects to turns, it's a wash. The blue line goes left, and so do I. South of 700 S the pavement on 400 E is rather poor; I should use 300 E for the trip back. And the map I'm using for the post-mortem shows 300 E crossing a creek twice: scenic! On second thought, "scenic" implies hills, particularly when you go down to a creek, then climb up whatever put that U-bend into it. But avoiding hills between Warsaw and Sidney isn't an option anyway.
Turn left onto 850 S, turn right onto SR 13, enter Sidney almost at once.
This is Wednesday; it appears that Sidney is open only on weekends. Well, one store is open only Friday through Sunday; I strongly suspect that the sign saying that the Red Barn Cafe is open Thursday through Sunday is one that nobody has gotten around to taking down yet; it would be tedious to peel off all those individual letters.
The fruit market was open, but I had bought a bag of Macintoshes at the farmer's market last Saturday, and didn't want apples today. I bought a jar of pickled beets; having come so far to get to the store, I had to buy something!
After touring main street I sat on a convenient bench to eat my lunch of bitter tea and food bars, then, having a convenient bench, changed my shoes and mounted up to go home. Only then did I realize that I hadn't seen any of the side streets. I looped around on both sides of the road, but less thoroughly than I would have if I'd been wearing walking shoes. Noticed only homes, except for a church.
Sidney to Aunt Millie's, an hour and a half
The shoulder on SR 13 is narrow but usable near Sidney, and traffic was so light that nobody hesitated to use part of the oncoming lane while overtaking me, so I elected to use 13 to get around most of the poor pavement on 400 E.
Distracted by orange signs far ahead, I missed the turn onto 725 S, which caused me to decide to keep going north and get onto Pierceton Road before it crossed 250 E, so I could go to Sprawlmart on the way home.
The orange signs turned out to be tree trimmers; the pleased me very much; we have too many trees threatening wires, so it was good to see tree trimming going on even though it wasn't my wires that were being cleared. Besides, they were pine trees and it smelled very nice.
13 turns toward Pierceton just before it crosses 600 S, but CR 500 E emerges from under 13 and continues straight — though at first glance it appeared to be a driveway for a church near the intersection.
600 S leads back to where I'd turned onto 400 E on the way out. I turned right and proceeded north. Left onto 400 S, right onto 350 E, left onto Pierceton. 275 E would have gotten me to Pierceton Road just as neatly, or I could have taken Wilcox Road from 350 E to 275 E.
Right off Pierceton onto 250 E, right again into the last driveway before the gas station on 30. A semi was parked beside my parking place, which provided a convenient shadow to read my watch in. It wasn't half-past one yet, and with us still on double daylight time, there wasn't a lot of shade around.
In 2001, when I first saw the flight of steps leading up to the bread shop and gas station, I wondered why they had been built. It seemed very unlikely that it was for my personal convenience — and today, when I came down them feeling a bit wobbly on my feet, I knew for sure that that wasn't it: if they had been built for me, they would have handrails.
Aunt Millie's to home
Same as the final leg of the Spring Creek tour, save that I gave Big R a miss and bought a small order of french fries to go at Burger King.
They were delicious and I'd like to have some more now.
Around Two Lakes
27 September 2014 — 22.1 miles
Since the farmer's markets are petering out, I tried to make a quarter century out of my weekly Tour d'Warsaw. Google Maps says I didn't make it — but that mile of gravel road should count twice!
Going to Chinworth Bridge by way of Crystal Lake and Parks-Schram instead of by the Chinworth Trail would have made it 24.2 miles.
I began with the usual Saturday tour, first to the fairgrounds market, then to the Center Street market, then to West Street and Lake to check on the construction where my favorite Mexican grocery store burned down. The construction has been stalled for weeks, and today I saw that they had taken down the fence around it. Then I dropped in at the indoor flea market next door and found them closed with a sign saying they were going to re-open on Prairie Street.
Instead of going on to Penguin Point as I often do, I ate a scotch egg that I'd bought at the Center Street market and returned by way of Union Street to Center and made unauthorized use of Zimmer's parking lots to get to the Chinworth Trail. Took about ten minutes to ride the full length of the trail. Pit stop at CCAC (the water fountain had been closed for the winter, but the restrooms were still open), across the Chinworth Bridge to 350 W, turn right onto 200 N, right again onto Fox Farm. At Fox Farm and 200 W I discovered that the "The Farm" vegetable stand had closed for the season. I also forgot that there was a good reason I usually take the slightly-longer route that crosses 30 on 150 W, and went north on 200 W.
Oh, from 200 W to 150 W makes the gravel road on 300 N only half a mile. It felt like more. In the first part I didn't dare to build up speed on downslopes to help me climb the following hill, but at least I never had to brake on the downhills. But after I passed the second factory under construction, it was a very unpleasant small-scale washboard. But *two* factories? This will probably be a very good road late next summer.
There was good pavement after crossing 150 W, but the last climb up to Sheldon Street felt very long and steep.
I arrived at Walmart sincerely wanting a glass of juice. The Walmart Subway, alas, offers nothing but soda pop. I didn't check the soft-pretzel stand because I didn't know they were there until I was on my way out. No single serves in the cold cases, not even a pint of milk. But there were some exotic juices in single cans in the canned-foods aisle, and I bought and inhaled a forty-eight-cent can of guava nectar. Then, for more electrolytes, I had a small order of french fries at McDonalds. I forgot entirely to look at the bicycle-shaped objects while in Walmart.
After buying a six-inch Crescent crescent wrench at Lowe's and putting it into my emergency kit, I headed for Sprawlmart by way of 250 N, Bell Drive, and Anchorage. I see by the map that I should have stayed on Bell until I got to Boing or Cessna; those turns onto Anchorage are simpler than the turn from Biomet.
At 175 E and 75 N, I paused to read the map, turned left, then turned right onto 225 E. The back gate of DePuy stood open; as always, I wished that someone authorized to issue DePuy gate badges owed me a favor before I jogged on Old 30 to 250 E, then made my way through parking lots to DePuy's front entrance. (I was feeling tired, and these parking lots are deserted on Saturday.)
I picked up a few things at Aldi, then noted that it would be nearly suppertime when I got home and stopped at Big Apple — oops, you can't buy supper at a breakfast-and-lunch place. We had a TV dinner. After I had a shower.
Spring Creek
10 October 2014 — 31.5 miles
about six and a half hours
No sooner did I discover the rest stop on 700 E than it closed for the winter. The park is still a good place to change shoes; the pole-stump bollards are various heights, so it's easy to find one tall enough to lean a bike on next to one that's short enough to sit on. (From Pierceton on, the stops are more numerous and the hills are fewer, so I prefer city shoes.)
I wanted to go down the spiral slide, but for some strange reason the bottom was curved into a puddle-holder, and it has rained within the last few weeks. I'm glad that I noticed before I climbed the ladder! Even when it isn't cold out, I hate riding with a wet butt.
The rumble strip on eastbound 30 doesn't match the rumble strip on westbound 30. The westbound rumble strip is ground into the asphalt; the eastbound strip was pressed, and not very deeply. You have to know it's there to see it — but I drifted onto it during the long downhill, and it can be heard very plainly. Yet it didn't threaten my control of the bike one little bit. I wish some moving-and-shaking type would find out exactly what it is and campaign for all rumble strips to be made that way.
It does seem odd that the eastbound strip is a lot farther from the edge of the lane than the westbound strip; the westbound strip was ground as close to the higher pavement as possible, around four inches. The eastbound strip is at least a foot from the edge, probably more. But there is an entire lane of shoulder. (On the other hand, in some places there is nothing beyond the shoulder.)
Someone had been along the eastbound side of thirty with an unsecured load of dirty wood chips — possibly the result of stump grinding. Fortunately, he didn't start broadcasting in earnest until after the high-speed part of the descent. Since we have to eat a pound of ohio swiss and half a pound of amish muenster before I go back, I can hope that it has worn off by then.
While fiddling with Google Maps after measuring today's ride, I found a route that eliminates nearly all of the backtracking, and it's actually shorter! (Well, 31.1 instead of 31.5 — a difference well within the margin of error.)
Take the first right off 30 after leaving Spring Creek, which is 550 W. At the first intersection, turn left onto Plattner Road. At the next intersection, turn right onto 650 W, then take the next left turn onto 200 N.
200 N crosses SR 5 north of Larwill. (I think it's SR 5; I don't have a Whitley County map.) Stay on 200 N until it ends on North Binkley Road. Turn right onto Binkley, then take the next left onto a road labeled both 250 N and 250 S. I presume there is a county line between the two marks. (Checks paper map: yes, Koscuisko County ends just beyond 900 E.) Stay on 250 S until it crosses 30 and becomes Pierceton's Mill Street. Mill Street curves north and becomes Grant Street. The second intersection on Grant Street is Wayne Street. Turn left onto Wayne and follow my original route: Van Ness, Wooster, 250 E, 30, Sprawlmart.
Yea, rah! A new quarter century! I hope I can stay in shape until it's time to go; I dare not ride when there is the slightest chance of slick roads.
Around Two Lakes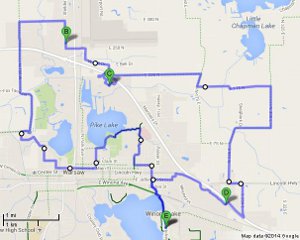 17 October 2014 — 21.3 miles
I planned seventeen or twenty miles for this ride, but mistook 175 N for 75 N and didn't figure out what I'd done until the shortest way back was to go on.
I was so tired when I got back that I thought I'd done at least a full quarter. But I did walk around in Walmart for a good two hours — even using a cart for a walker, that's exercise.
And I'm not sure that chili-cheese fries at Penguin Point, a can of guava nectar at Walmart, and a quart of buttermilk at Meijer constitutes proper nutrition for a long ride. I did eat at least one of my food bars. With buttermilk. Still have half an inch of buttermilk in the fridge. Half a glass of buttermilk mixed with half a glass of coconut fizzwater makes a tasty egg cream.
Note that Google routes me to Penguin Point by way of William Street. I made a point of finding William Street this time; it's a strip of sod blocked by a ridge of dirt at the Old 30 end, and by a gate and a sign saying "closed" at the Warren Street end. I'm not at all sure I'd use it even if I did have permission from the owner. (I presume that the right-of-way has been vacated.)
I got to Sprawlmart far too late to buy a bagel for supper. I had, in fact, called from Meijer to tell my spouse he was on his own, and I got home after six. (Suppertime is half-past five.)
I didn't get any of the things I'd gone for except for a package of swiss cheese at Aldi, but at Walmart I found a packet of plastic bags that should help me organize my spools of thread.
Sidney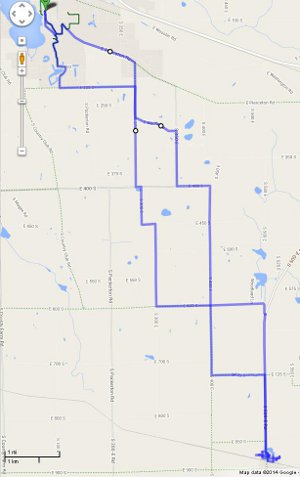 22 October 2014 — 25.4 miles
four hours
I think that my tea just wore off. This may be a slightly-fuzzy report.
Wednesday was predicted to be a perfect day for a quarter century, and I was fresh out of places to go.
Inspiration struck when I noticed that there were only two apples left in the crisper tray. I could go to the orchard store in Sidney, buy a bag of apples, walk around the store to see whether they have anything else we want — we could use another jar of pickled beets — and check the convenience-store corner to see whether they have something to dress up my lunch of food bars and bitter tea. On the way back, I could pick up some bread at Aunt Millies, and maybe a bagel or something in Sprawlmart.
The tea isn't all that bitter now that I've switched from brick tea to green tea. And I put in ascorbic acid instead of lemon or lime — pure sour goes better with the milder flavor than preservative-laden bottled juice. I didn't put in a lot of apple juice because there wasn't much space left in the bottle. When I'm making only one bottle at a time, I have to use a bit more water to be sure of not boiling dry.
The tea went down rather quickly once I started drinking it. Note for next summer: carry a second bottle of slightly-sweet water with some electrolytes in it. I used to put a tablespoon of orange juice in a bottle, back before I started needing an afternoon nap.
What with sleeping late and having a few chores to do and getting confused and doing some things twice, it was forty minutes after eleven when I left. I told my spouse that I'd get supper somewhere along the way and he should fend for himself; he reminded me that I have a six O'clock curfew (which will suddenly change to five O'clock when we go back on Daylight Savings next week, and keep on getting earlier through December).
(Nope, going on DST in the fall wasn't a typo. Forty or fifty years ago, Indiana went on year-round DST. Then everybody forgot about it and when Mitch Daniels became governor, he decided that we should flop back and forth like everybody else even though everybody doesn't flop in unison.)
Off down Boy's City to the Heritage Trail, through Southtown to 225 S, south on 275 E and 300 E to 600 S. At this point I stopped and pondered.
I'd been intending to continue on 300 S to 800 S, but I didn't like the ribbon-candy looks of it. I particularly didn't like the way it wasn't marked on my map snippet, though faint marks did suggest that 700 S and 800 S were in the data base and I could see for myself that the road existed. I reflected that the bad pavement on 400 E is mostly south of 725 S, and that SR 13 isn't all that bad in this neighborhood, which has lots of alternate routes and few traffic magnets.
So west on 600 S, south on 400 E, and east on 275 S. I think it was somewhere along 275 S that I got warm, put my gloves into my middle pocket — and discovered to my horror that there was no wallet in that pocket. I didn't have so much as a penny! I used to carry cash in my first-aid kit, but that kit was in the emergency kit that fell off the bike somewhere along the way and I haven't gotten around to assembling a new one yet. (For one obstacle, my only list of what was in the first-aid kit was written on the outside.) When I got home, I put a little folding money into my patch kit.
All it says in my notes is that it was 12:59, a little more than an hour after I left. I do know I was heading east at the time.
I changed my shoes just before reaching SR 13, forgetting that there was another mile of hills. But, it being a state road, the dips had been filled in a bit, so my city shoes were adequate.
Once in Sidney, I traversed every street they had, including some that both the map snippet and "dead end" signs said didn't exist. When measuring my distance, I settled for way-marking the east-west streets.
I should have crossed the railroad to see whether I could see any signs that Sidney once extended along both sides of the tracks. What I see in satellite view and street view looks late twentieth and early twenty-first to me. Might be some interest along 900 S.
Thence along SR 13, 600 S, 400 E, 400 S, and 350 E. I had meant to follow 350 E to Pierceton Road, but when I passed Wilcox, it looked pretty, and I reflected that here was a road I'd never used, and it didn't appear to be a speck farther than my intended route. It did lead to a road I'd used coming down, but the routes overlap for a very short distance.
Turned out to be quite pleasant. The pavement wasn't perfect, but the worst parts were merely annoying, and not much of that.
Then Pierceton road to home. I arrived ten minutes before the bagel place closed, which annoyed me until I checked the map and saw that it was farther from the branch point to the bagel place than it was from the branch point to home, and I'd have stopped at the bread outlet. I'd never have made it, even if they don't stop making sandwiches after it's too late to finish before closing time.
Spring Creek
29 October 2014 — about twenty-five miles
about six hours
Things were going great until I heard funny noises while climbing a hill on Wooster Road, stopped to investigate, and found that my back tire was soft and rapidly getting softer. Woke my spouse, we dropped the bike off at the Trailhouse, and they had it ready to go again the following day. When I picked it up, she said that I'd frightened her — she recognized the bike in the back of the truck, didn't see me at first, and thought I'd crashed. Splains why both of them came out to help us unload!
The usual route to Pierceton: out by way of the one-way street (14th?) to Kings Highway/Pierceton Road. When I was starting to look for 600 E, I realized that I'd forgotten to take my map and cue sheet off the shelf. I knew that I should have folded it up and put it into my jersey pocket the day before. I forged on; I remembered the first turn, after that it's west when you can, north when you can't, and the Kosciusko County map includes a sliver of Whitley, so it isn't far to get back on it. Also the proprieter of Spring Creek showed me a Whitley County map he had under glass on the counter, and I refreshed my memory.
Pierceton Road to 600 E to 350 S. I'm getting this route memorized. As I approached the jog around Hillcrest Cemetary, I suddenly realized that everyone in there is buried at a crossroads!
But I think that for it to be serious juju, you have to be so located that traffic on both roads runs over your grave; here both streams politely go around.
Ryerson to Old Trail. In Larwill, I stopped at the gazebo to change shoes and dig out my bottle of tea.
I had put too much ascorbic acid in my tea and it tasted like vomit; adding a starlight mint and, later, a caffiene drop helped. As did buying a bottle of oranged juice to go with my pizza at the Marathon station. When I was done eating, I bought a newspaper so that I could sit a while longer.
Changed shoes standing up and off to Spring Creek. There were still signs of the dirty wood chips that had been freshly-dumped on my last trip up this hill.
Changed shoes standing up again, completely filled one pannier with cheese and candy, and changed back to country shoes. In retrospect, I shouldn't have. It's all downhill to 550 W, and the last hill on 550 W is *way* too long and steep for me; walking it in cleats was miserable. I probably would have needed to walk part of the two smaller hills if I'd worn walking shoes, but that would have been a small price to pay.
Then to top that, when I got to the top of the hill and turned off onto Plattner, it turned out to be gravel and I had to stop and change shoes the first time I came to a hill.
Then came 650 W: Paved! I changed shoes again. Shouldn't have. 650 was flat and very short, then 200 N was gravel again. I didn't have to dismount, but there were many places where loose gravel threatened my control of the machine.
Urk. I've waited too long to transcribe my notes, and I didn't take any between 650 and Pierceton. I thingk 200 N was paved after I crossed Route 5. If so, that'swhere I should have changed back into riding shoes after buying my cheese.
Slightly confused, I consulted my map at Binkley Road, and was delighted to learn that Binkley Road is on it. Then 250 N/250 S runs straight into Pierceton. I blundered around a little finding Wayne Street from this direction, then it was business as usual — except that I never made it to Aunt Millies, and we are running out of bread.
Meijer, Walmart, K-Mart:
The Card-Table Tour
12 November 2014 — 14.7 miles
Excerpts from the Banner:
---
11 November 2014
Tomorrow looks like a good day to take a card-table tour. It won't be a quarter century, but it will be exhausting, and that's the point of a long ride.
I want a card table, and my Walmart-Meijer tour re-crosses US 30 right at K-Mart. So I can check all three X-Marts, and Lowe's as well.
I think I'll wear walking shoes for the entire tour; there's only a short stretch where I have to climb hills, and one of the hills on 150 E is so steep I can't climb it even with cleats. This means walking the hill on 300 N too, but walking is good exercise.
Hmmm. If I go to Meijer first, then Walmart, I can skip both 150 E and 300 N. That makes the trip shorter, but it's *cold* out there.
Then coming back from Walmart, I can stay on 250 N all the way to — oh, wait, that's Husky Trail, which is devoutly to be avoided. So it's Bell Drive yet again. [I stayed on it all the way to Cessna.]
⁂
All summer long I've been looking for a stick of suncreen that I bought on clearance and stashed away last fall. This evening, while getting out a pair of wool gaiters to wear on tomorrow's ride, I found it!
Now, if my split mittens would turn up . . .
and the half-knit sock with my #0000 needles in it . . .
12 November 2014
I didn't go to Lowe's, and decided to give Aldi and Big R a miss in favor of getting to Big Apple Bagles while I could still buy a roast-beef sandwich and three sliced whole-wheat bagels
Otherwise, things went according to plan. Each of the three stores had just one style of card table, though one of them — Walmart, I think — also had a square table that folded in half like a banquet table. I couldn't see any difference among the three card tables. They were in boxes so I couldn't see how the legs worked, but each had the same black leatherette top. The lowest price was at Walmart, so that's where I'll go to buy one.
I was much surprised to find that [aside from our supper] there was nothing but two fortune cookies to unload from my panniers when I got home — all those stores, and I didn't buy anything.
If I dine at Panda Express again, I'll go in at the back door, look over the menu, then go back outside and get in line. The side dishes are listed where you can read them while waiting in line, but the entrees are listed only on the labels on each — uh, what is the name for the compartments in a steam table?
I learned today that peanut bars aren't a good snack when chilled to thirty degrees. I had to bite it with my back teeth. My fruit-and-grain bar would have been good. I don't think I've tried very cold protein bars.
Department of well, duh!: I've been using all sorts of elaborate ways to prepare my tea. This time I just put a couple of heaping teaspoons of tea leaves into a water bottle, filled it with water, and let it sit at garage temperature all night. Worked great — though I did take a caffiene drop just before beginning to drink it. I didn't remember that I had it until I had already started getting sleepy, so I wanted fast action, and it takes a while to drink a pint of tea. (Though it does go down faster than water.)
---
All that's in my notes on the ride (aside from card-table prices and arrival/departure times) is that it's time to stop carrying Sweet and Salty Nut Bars, and that at 30F it's really, really hard to untangle a cable lock. It's even harder to coil it up after using it.
«»«»«»«»«» «»«»«»«»«» «»«»«»«»«»
2013 Rides
Back to the links page
Back to the cover page