updated 1 June 2015
Quarter Centuries starting in Winona Lake
2015
Prologue
I thought I'd found a new quarter: new, new, new! Even though I've been housebound long enough to dream longingly of the 1.6 mi. ride to the grocery store, I've worn a rut around Winona Lake and the thought of working my way up to a new quarter, an easy one with an interesting destination I might want to visit more than once, was inspiring. Alas, when I came down from the high, I realized that twenty-two miles from Columbia City to the edge of Fort Wayne is one way. I don't think I'll ever ride a half century again. (Though I did get up to thirty miles more than once last summer.)
21 March 2015
New interest in an old quarter: Last Wednesday's paper says that the old tumbledown hardware store in Sidney has been restored and will open in May as a giffte shoppe. With ice cream.
Put that way, it sounds like the Old Leesburg Mill. The new owners are still looking for a name; perhaps they could call it Old Sidney Hardware.
11 April 2015
NEW NEW NEW!!! When plotting a way to get to Mentone without going through the Devil's Backbone, I've always looked south of 25, and you just can't get there from here. But there are a couple of fifteen-mile routes north of 25, and once I've done the Spring Creek tour, I should be able to handle a thirty-mile ride easily. (And I can go by one route and come back by the other!)
Owens East
9 March 2015 — 3.2 miles
Free at last! When the roads finally clear, they do a thorough and lasting job of it!
The front tire was down to forty pounds; the back tire was even softer, but I didn't thumb test before pumping as I should have, so I don't know that that wasn't all due to letting air out while trying to persuade the chuck to fit between the spokes.
The patches of moleskin to cover my corns were exactly where I expected them to be. My new windbreaker, alas, isn't ready to wear yet, so I wore my overly-tight thick wool jersey, a black silk turtleneck, and my short-sleeved cotton-interlock jersey.
While attempting to remove the short-sleeved jersey without turning any of the pockets upside down, I realized that I ought to design a sort of tabard that does nothing but support the pockets; when I'm constantly adding and removing shirts, it would be nice not to have to shift the stuff in the pockets. I could use the plan of the linen jersey, put a drawstring through a casing in the back, and in the front have D-ring buckles on the ends of a non-adjustable waistband that is shorter than the width of my front, to allow for thinner shirts — and to bring the buckles forward where they are easier to get at.
Then my mind wandered off trying to figure out how the thing could be converted into a purse when I get where I'm going. I don't think this is possible; I'd have to either put flaps on the pockets or wrap them all up inside where they are hard to get at. And using the drawstring as a purse strap isn't a serious option; I'd have to carry something.
Home-Owens-Emergency-Home
10 March 2015 — 5 miles
Out two days in a row! And wearing my new windbreaker, which I completed in the morning before riding in the afternoon. The Greenway hadn't been cleaned, so I came back by Harrison Street.
Mentally removed things from my tabard design, realized that for the majority who don't use front pockets, what's needed is a slightly-elaborated nail apron. My first thought was that such things were probably on the market, but the demand would be considerably reduced by the existence of fanny packs. Fanny packs don't let you get at stuff while riding, but there is no difficulty at all about converting one to a purse when you get to where you are going, and males would have back pockets in their jeans for dog spray and handkerchief. Females, of course, don't exist.
WCPL
10 March 2015 — about seven miles
I was pleased to see that the blacktop Beyer Farm Trail behind the hospital had been plowed and salted. The boardwalk was also clean. Considering that there was almost no snow on the swamp, I think Momma Nature may have cleared the boardwalk without help. There was snow across the blacktop at the other end in a couple of places, but nothing I couldn't draisine across without dismounting. Things were pretty clean downtown.
I had thought of having lunch at one of the fast-food places on Detroit and exploring downtown a little, but I felt a subtle but definitely-present pain in my right knee. There are a lot of pains one simply ignores, but this didn't feel like one of them, and knees are nothing to mess with, so I went straight home after checking CVS (across Detroit from the library) for Smith Brothers Caffeine Drops, which I hope to need Real Soon Now. Probably wise, as my left knee began giving subtle hints before I got home.
My new windbreaker went along, in a plastic bag in a pannier.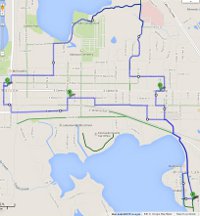 Truncated Tour d'Warsaw
14 March 2015 — 7.4 miles, three and a half hours
Mama Nature has finished cleaning up the Beyer Farm Trail.
My first stop was at Lowery's, to buy a pretty polyester grosgrain ribbon to replace the ugly gray mystery-fiber tape in my windbreaker. Now all I need is to work a bar tack to replace the safety pin in my cell-phone pocket.
I carried the windbreaker neatly folded in a plastic bag. I wonder how long it will take me to get around to wadding it up and jamming it into the pannier like my old one?
Thence to the library, where I traded Bujold's Captain Vorpatril's Alliance for Asaro's Undercity, and to Owen's by way of the boardwalk. I bought a pint of potato salad and a box of plastic spoons and lunched before I left. Supplemented with ham and avocado after I got home.
I'm slightly disappointed that this trip wasn't much longer than going straight to the library and straight back, but there were some zigs and zags that Google Maps couldn't follow. Such as, for example, the sidewalk alongside a one-way street. But I did end up on Fort Wayne, by way of N. Fort Wayne Ave.
Google maps showed me going through the parking lot to the library's door, but couldn't show me going on through to come out the other side — hence the weird loop on High and Main.
Truncated Tour d'Warsaw
17 March 2015 — about six miles, all day
I went farther, but it wasn't as long a trip. Comes of not insisting on using the boardwalk, I guess. Hadn't finished my book, so no need for the library, only one magazine, so no need to pass by the emergency room. I did climb up and down two different flights of stairs; that should count for a little something. Also spent a lot of time walking. Got home too late to take a nap, but it was after eleven when I started.
I bought fleece to make a pair of slippers at Lowery's, and dumped a box of old floppies at the recycling center. Visiting the recycling center was the primary purpose of this trip.
I'd intended to dine downtown, but needed first to stop at Owen's West (the rest rooms are on the second floor: staircase one) and took a fancy to the fried potatoes in the hot deli case, but it was after lunch time and no deli clerk was in evidence, so I started eating the chocolate bar I'd bought at Sherman & Lin's on the way out and headed for home. Passed by the second-hand store on Columbia Street, the second flight of steps.
Checked out Market Street, which has been improved by cutting down the lovely old trees that used to line it. I was pleased to see that the desecration didn't extend all the way downtown, but Facebook says they'll get around to the trees west of Bronson Street in the next phase. It also says that little whips of trees will be planted in what's left of the verge after they put a ten-foot-wide side walk on it.
The pictures labeled "Market Street" on Facebook show a bit of chicane-ry, but the pictures don't show any evidence that it's Warsaw's Market Street that is depicted. Appears to be clip art.
Stopped at Owen's East and bought milk and meat.
Ugh. I rubbed my face with a wet rag, but still feel my greasy sunscreen. Time for a shower.
Bags Mags Book Look
21 March 2015 — about nine miles, three and three-fourths hours.
Drop bags in the recycling barrel at Owens East, drop magazines at the emergency room, drop a book at the library, take a look at the reconstruction of the burned-out building on Lake Street.
The former Avila's is much the same as when I last saw it, except that the partitions that they were starting to frame then are complete and covered with gray wallboard. I hope that it's fire-retardant wallboard! Google Maps still shows a grocery store at that spot; wish I thought that that meant Avila was coming back, but the space it occupied has been divided into two smaller stores.
One of the buildings on display at Everything Outdoors has a lot of wooden lawn chairs in it; I didn't take a closer look. The former thrift shop still hasn't got a tenant. The Open Air Nursery won't have onion sets or potato sets until next Wednesday.
Considered lunch at penguin point, but my knee had been twingeing now and again, so I ate my emergency bar and headed back the way I came. (Google maps was curiously reluctant to allow that, and seemed to think that Fort Wayne is one-way all the way, but it was quite happy to send me north on Union Street!)
Not back by way of the library, but by Smith Street. I stopped at the Peking for a small bowl of their bland "hot and sour" soup, and bought a bag of radishes at Marsh. Also stopped at Lakeview Shopping Center, where I learned that the pawn shop will soon move to Auburn. Pout. I bought two ninety-nine cent knives.
Much to my surprise, I got home in time for my nap, and slept like a rock despite having drunk three-fourths of a bottle of tea. Woke just in time to go to the Great Wall for real hot and sour soup.
Lethargic Tour d' Warsaw
24 March 2015 — about eight miles, five hours.
I wasn't at all enthusiastic about riding today, but Weather Underground said the next fit day would be Saturday, so I ambled off about eleven and got home about four — too late to take a nap, but I'm perking up now that it's getting on toward time to go to bed.
Meant to ride out Smith Street looking for Sunday night's fire, but there was a great long line of cars waiting to get past the construction just past the Dairy Queen on Winona Avenue, so I hung a right at McKinley, blundered around first north of the railroad, then south of it, until I found Reed and Smith. I couldn't find *any* businesses in that area, let alone a scorched clothing store. When I got bored with that I followed Smith and Prairie downtown, keeping an eye out for the second-hand store that used to be on Lake Street where Google claims that there is still a Miss Thrifty. No sign of that, either, but Smith Street is somewhat dotted, and I missed vast swaths of it. Headed for the second-hand book store, but realized that it was business hours and I hadn't seen the new city hall yet even though it's been open for years. By the time I was through looking at that, I'd forgotten about the bookstore.
So I walked down Center Street looking for The Little Seamstress; found it only to learn that she no longer has time to take on construction work, only alterations and repairs.
Being on foot, I walked most of the way to the library, not mounting up until I got to High Street. Spent a while there, and checked out their only James White book.
Then on foot again to the Subway. Good, but a little dry; I'll have to order something greasy on it next time.
Knowing that the boardwalk would be covered with snow from end to end, I intended to return by Fort Wayne Street, but when I stopped to check out a mysterious fluttering noise (I never did find it, but it stopped on its own eventually), I realized that I was on Cook Street, and thought I might as well go look at the Beyer Farm Trail — after all there is a pedestrian gate into the cemetery from Arthur Street now, so I wouldn't have to come *all* the way back out.
And the blacktop portion was clean, except for a few shaded spots — I presume the asphalt managed to pick up enough heat to melt an inch of snow — it was thinner in town than out here — during the sunny days we had. So I ventured down to look at the boardwalk, and by then it was less trouble to walk the full length than to go back to the cemetery gate. Such thin snow wasn't difficult to push the bike through, though it did build up between my back wheel and the fender once, and the right pedal kept wanting to trail its toe strap in the snow. When I got to the end, I was tired enough to walk up the short sharp slope before mounting up again.
I found a few spots where there were cracks between the boards, conspicuous by the streaks of snow that had melted and drained away. On the shorter board walk, which is more-or-less at right angles to the long one, such few cracks as it had were even more conspicuous by half-inch-high snowdrifts on the south edge of each crack. Wind conditions must have been very peculiar when the snow was falling. Each drift was perfectly uniform from end-to-end, and ended exactly at the ends of its crack, which was readily visible because the snow had melted off on the north side despite the shade cast by the drifts.
Since the blacktop was clean and the bridge is short, I stayed on the trail and the dotted green line all the way to Owens. Where I got milk and cottage cheese, but they were out of real yogurt.
After some zig-zags Google Maps can't register, I followed McKinley back to Winona Avenue. Where I found that the construction was still backing up great long lines of cars, and they had released the eastbound line just before I arrived at the intersection. I thought I was *never* going to get across the street. Probably didn't help that it was pushing four o'clock by then.
Did I ever mention that I get very loquacious when I'm half asleep?
Three-Supermarket and Sprawlmart Tour
28 March 2015 — would have been 8.5 miles
Game cancelled on account of sneezing; I went to just one supermarket but made a wrong turn on the way to the Beyer Farm Trail (I had some magazines to drop off at the emergency room) that brought my mileage close to five.
Spent some time on mapmyride.com on Sunday. A rather pitiful assortment of maps — all rides start and end in the middle of nowhere, and some wander back and forth like a kindergarten scribble.
Flatfoot
8 April 2015 — .7 miles
Tour d'Warsaw
14 April 2015 — 10.5 miles
I planned to report this ride as "back up to Square One!" Alas, the following afternoon, I came down with a back ache so ferocious that I required a walker for three days, used my "pedal-powered wheelchair" (Trek Pure) to get to church the following Sunday, and it's still (24 April) sore. I've been walking some, but that doesn't keep one in shape. I went up and down a staircase yesterday, and that does help. Nearest public stairway is half a mile from here, and each flight of it is an odd number of steps.
Square Zero
28 April 2015 — 3.2 miles
I rode to Owen's and back, and entirely forgot that I had a sore back. But I should wait until Thursday, just in case, and Thursday has a 20% chance of rain.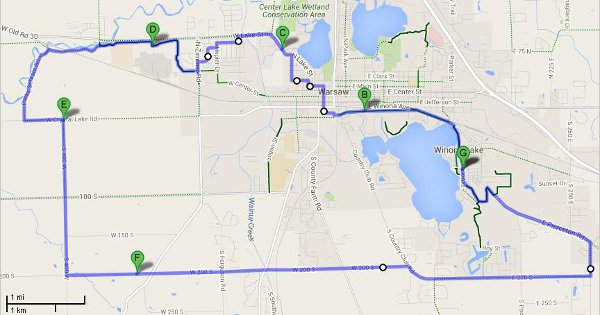 Almost a Quarter
23 May 2015 — 20.7 miles, five and a half hours
I got a couple of those miles by wrong not turns. I missed both Faun Street and Packerton Road and didn't turn north until I got to 275 East.
As I was packing, I was thinking "A bottle of tea ride! Can it be long before I do a ride that needs cleats?" Turned out that I could have used cleats on 200 South, but there wasn't a good place to change at either end, and I was tired enough not to mind walking hills. I walked up only two anyway.
There were only three fixed points in my plan for this ride: see the farmers' markets (I got a package of frozen liver at one and a pint of maple syrup at the other), have lunch at Penguin point and order two extra pieces of chicken so I won't have to cook supper, and increase my miles.
I accomplished all three, and stopped at at least four garage sales.
When I bought frozen pork liver at the fairgrouds market, I wished that I'd put more layers of newspaper in my cooler — I'd intended it only for bringing home the chicken — but the meat was still frozen when I got home five hours later.
It was 11:23 when I left the Center Street market, so I headed for West Street without further ado. There was no news at the site where Avila burned up. (I'd observed that the construction was finished and the stores were for rent during an un-reported ride.) I walked through Everything Outdoors to Open Air, where I arrived at 11:42. Don't know when I left there, but I arrived at Penguin Point at noon and left eighteen minutes latter. Having thought of eating lunch at Chinworth Bridge, I orded a three-piece dinner to go, but sat down and ate the fries on the spot because they aren't good cold. The chicken and beans were still warm when I got to the the Kiwanis picnic shelter. Google Maps adamantly refused to log the trip from the bridge to the picnic area and back; the programmer appears to object to U turns on state roads. Now is a fine time to think that it would probably have put the U turn in automatically if I'd entered the picnic area as a destination instead of using a drag-to-change-route point.
After lunch, I turned right onto 100 North, rode a little past Parks-Schramm, and consulted my map to see where I'd end up if I kept on in that direction. Turned out that it was Atwood. Atwood will probably make a nice quarter century sometime — it's about ten miles, and one could easily make fifteen out of the return trip — but I didn't want to go there today.
So I went back to Parks-Schramm, and near the end, I consulted the map again, then proceeded to 400 West and followed it to 200 South, thence by Country Club to 225 South, which I followed about a mile too far.
⁂
When I was on Smith Street, I stopped near the main entrance of the fairgrounds to measure the width of the "bike lane": sixty-nine inches, including two four-inch white lines. I stopped again after it narrowed between there and the farmers-market entrance: fifty-four inches, still including two four-inch lines.
Leesburg: A Gen-You-Wine Quarter
28 May 2015 — 24 miles, 7+ hours
Probably another mile zig-zagging in Leesburg.
The usual: frozen lemon custard at the Old Leesburg Mill, but if it had been Friday, I could have had a slice of quiche. Nothing interesting at Duck Down and Above, but I did buy a couple of chicken-patty rolls for supper (but got home way too late to wait for the oven to heat, so I stopped at the Center Street Penguin Point.) I missed the grocery store across the street from The Keg, so I can probably work up motivation to go again before the end of the summer.
I went to Penguin Point for lunch, by way of West Street and the Open Air Nursery, then changed into cleats and went back through the roundabout to make my first left-turn-in-a-roundabout onto Fox Farm, planning to follow 150 W until it Ts onto 600 N, but when I got to 900 N I figured I had somehow overshot Leesburg, so I went back — and the first road I came to was 400 N!
This little dido is why the trip is marked twenty-four miles instead of twenty-two. I was thoroughly Twilight Zoned, but eventually I remembered that 400 N comes out in a good place to cross 15 onto Levi Lee: If you turn left, you come to Levi Lee directly; if you turn right, a left turn into a housing development that has a back door on Levi Lee is slightly closer. I turned right because I enjoy the residential streets, and because the west side of 15 looked slightly less uncomfortable than the east side. Then up Old 15 to the Mill, and back and forth over every street in Leesburg.
I made a point of going back the way I'd intended to come: out of town on 675 N, which made a right angle turn and headed for 700 N — blink, blink, turn around, yes there's a street sign there among the greenery, might have been obscured from the other direction, and I would have taken the gravel road for a driveway. The street sign said "100 W"; Google maps and my Moore map both said "75 W". My Chamber of Commerce map says "100 W".
There hadn't been enough cars on the road to pack the gravel down; I walked a long way before I got up the nerve to ride, and kept it in low gear. When I go again, I'll go by way of 700 N even though it adds more than a mile to the distance.
Whereupon I'll discover, more likely than not, that the road grader wore out and three-fourths of a mile of paving was cheaper than a new road grader.
The scenery after 500 N looked just like the scenery before 900 N on the way up. Alas, I didn't think of looking back at the sign.
Back at the beginning of the ride: when I hit the big hill before State Route 30 on 150 W, I didn't make it quite all the way up the hill. It wasn't a long walk, but pretty far to go wearing cleats — particularly cleats that cannot be replaced. I reflected that there was a hill just as big on the other side of 30 and changed back into my city shoes. I wouldn't get as far up the hills, I reflected, but walking a little farther is less trouble than walking in wood-soled shoes.
On the way home, I got off to walk and discovered a definitely-sore spot on the sole of my left foot. Easier climbing isn't the only reason to wear wooden innersoles! I was puzzled at first that pedalling didn't hurt, but realized after a while that the bruise came of using the back of the pedal, and tried to remember to use my instep or heel whenever I pulled out of the clip.
So it's obvious that I need to walk down some flights of stairs on all the days I don't ride, so that I can learn to handle those last few feet of hill. It's less obvious how I'm to accomplish that when I live in a one-story house. I forgot entirely to make vertical circles in the church yesterday (I'm writing this on the Monday after the tour), and in addition, decided to take Chestnut Street home for a change, so I didn't even descend the steps on Ninth
Claypool
9 June 2015 — 27.5 miles
Good route, enough hills to help with training and no long hard strains, but there is nothing in Claypool to tempt me to ride it again.

It does have a bar with a sign saying one can buy a lunch, or send an adult in to buy carry-out. I ate a ration bar instead, since I was pretty far from the bar when I decided that I'd seen the town.

The route included a mile of SR 15, and a half mile or so of gravel on 400 W. I could have hung a left onto 525 S to avoid the gravel. 15 wasn't too bad; there was a blending lane where I first turned onto it, and traffic was light enough that cars didn't have any trouble getting around me. I pulled off twice to avoid worrying the drivers of heavy trucks. (Most bike riders are squirrely, so it's polite to demonstrate that you are not going to wobble into his path. Also, I don't like the noise.)

I went out by way of the Heritage Trail and Faunn Street, then 225 to Country Club. I think I stayed on Country Club to 600 S, but I see that one can also follow 400 S to County Farm or S. Kinsey. Then 200 W to Claypool's main street.

After wandering around in Claypool: Section Street, SR 15, 600 S, 400 W, Crystal Lake, Winona Avenue. At the Marsh Supermarket, I diverted onto Prairie Street to avoid the SR 15 traffic, which took me past the fairgrounds, where they were setting up a tent sale and had a convenient picnic table where I changed back into city shoes.
Mentone
13 June 2015 — 30 miles -- 8? hours
I went out through Warsaw, stopping at both farmers' markets, and at Owen's West, then followed Crystal Lake Road to 400 W -- the two sets of stairs stored beside 400 W are getting familier -- then followed 100 S to 950 W, which crosses 25 at the edge of Mentone.

While exploring Mentone, I looked down SR 19 and realized that this state road isn't all that bad. And I had discovered that the section of SR 25 between 950 W and downtown Mentone is all that bad.

So I left town by SR 19, and found that the main difference between this section of 19 and a county road is that there are lines painted on it. Traffic was a little heavier, but being overtaken was still a special occasion.

The home route was beautifully simple: get on 19, turn right at the first intersection, follow 200 S until I'm back in my brier patch. I had to granny-stop two or three hills toward the end, but didn't need to walk any.

I'm finding the hills on all my routes remarkably non-stressful. That's probably fortunate choice of route (and great care to go easy on myself), but I'm hoping that it's the same effect as the time I missed a turn in familiar territory I hadn't visited for a while: a horrible long steep climb had vanished.

Pity I can't try that hill on for size now, but it's over seven hundred miles from here.

It was raining pretty hard when I got back, and in my hurry to shower and put on dry clothes I forgot to note the time. Wild guess in the general neighborhood of six; I'd left at ten thirty-six.
Sidney
23 June 2015 — 25.7 miles -- 7 hours
Grump. I'm sure that the last time I took this trip it was thirty miles. Perhaps I came back through Pierceton.

As always, Google reports more precision than it can measure.

The hills weren't nearly as bad as I remember them. Could it be that the quad-strengthening exercises I've been doing have had much more effect than it's possible for such little dabs of infrequent exercise to have -- or is it that I've two or three times taken rides that I definitely wasn't ready for, and practiced and practiced at saving strength and energy so that I'd have enough left to get home?
«»«»«»«»«» «»«»«»«»«» «»«»«»«»«»
2013 Rides
2014 Rides
2016 Rides
Back to the links page
Back to the cover page